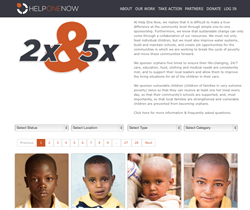 REACH's child sponsorship module has provided us with the tools we were looking for and has made the child sponsorship process much easier for us and for our sponsors. - Chris Marlow, CEO, Help One Now
Wake Forest, NC (PRWEB) June 30, 2014
Sugar Maple Interactive announces that Help One Now has implemented its new child sponsorship module. The module, a component of the company's communication and support portal REACH, provides a complete set of tools for an organization to simply and effectively manage and run a child sponsorship program using their existing website.
"We have been extremely pleased with our new child sponsorship module," said Chris Marlow, CEO, Help One Now. "Our previous solution was not providing us with all of the tools we needed to efficiently run our child sponsorship program. We were quickly learning that we needed a solution built solely for child sponsorships. REACH's child sponsorship module has provided us with the tools we were looking for and has made the child sponsorship process much easier for us and for our sponsors."
Organizations manage the module using its simple, web-based administrative tool with built-in, detailed reporting. Administrators can add background information, upload multiple images, add custom attributes such as age and gender, and offer multiple sponsorship levels per child. In addition, administrators can manage online and offline sponsorship payments and track past-due donations. The module can also automatically notify sponsors of any past-due donations.
Using the module, supporters view, read about and select a child to sponsor. After sponsoring, the supporter will receive regular updates about their sponsored child.
"Launching our child sponsorship module further illustrates our commitment to the non-profit community," said David McWilliams, CEO, Sugar Maple Interactive. "Our goal is to equip non-profits with the latest technology available to efficiently manage and run their organization at an affordable rate."
Simple import tools allow an organization to be up and running with the new child sponsorship module within a matter of days.
To learn more or to get started, please contact Sales and Marketing at 919.622.2594, or visit us online at http://www.reachapp.co. To view Help One Now's child sponsorship program, please visit http://www.helponenow.org.
REACH, a service offered by Sugar Maple Interactive, LLC, is a centralized communications and support portal for missions and international development organizations. Using REACH, organizations can better engage supporters on multiple levels, creating transparency and building trust by showing how the organization's resources are being used, and empower supporters to become crowd-funders through online donations and campaigns. Sugar Maple Interactive, LLC provides software solutions and services using a number of different technologies for businesses and non-profits. Sugar Maple Interactive, LLC is headquartered in Wake Forest, N.C. For more information about REACH visit http://www.reachapp.co.