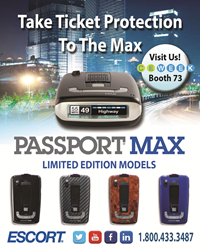 "PASSORT Max continues to be called 'the best detector ever..."
New York, NY (PRWEB) June 24, 2014
ESCORT Inc. (ESCORTinc.com), riding the momentum of the launch of the world's only High Definition radar & laser detector, the PASSPORT® Max™, today announced that their record setting PASSPORT Max Limited Editions and ESCORT Live™ driving app will be featured again at the CE Week show in New York City on June 25-26th.
Upon its release, the all-digital detector was immediately named 'the best detector ever' by several leading industry analysts. The key to the record setting detector's overwhelming success is true Digital Signal Processing (DSP). DSP allows the PASSORT Max to achieve ultra–fast processing speeds and unprecedented range reporting while adding the innovative ability of the detector to apply DNA intelligent signal analysis to automatically eliminate false alerts which plague competitor detectors.
"PASSORT Max continues to be called 'the best detector ever' as more and more analysts take their turn to preview our latest technology," said Ron Gividen, ESCORT PR Director. "CE Week offers media experts the opportunity to experience the world's only all-digital radar detector for themselves."
In addition, PASSPORT Max™ Limited Edition models are available in expanded case configurations including Brilliant Blue, Glossy Black, Burled Wood, and Carbon Fiber. Customers may enjoy the key benefits of the world's only all-digital premium radar detector while driving in their custom style.
With over 22 million saves and named 'best new product, SEMA', Popular Mechanics Editor's Choice and a Car and Driver 'Top Ten Most Promising New Technology', the ESCORT Live™ app delivers revolutionary radar and laser ticket protection. Using real-time, cloud-based threat and information sharing between app users on their smartphone (Apple and Android), ESCORT Live™ alerts drivers to potential speed traps and upcoming red light and speed cameras. Networked drivers are continually safeguarded against radar and laser ticket threats even before they are in range of enforcement guns.
ESCORT will feature the new PASSPORT Max HD radar detector and ESCORT Live™ at CE Week, Metropolitan Pavilion, New York City. ESCORT will be at booth number 73 at the combined Metropolitan / Altman Building, 125 West 18th Street, New York City, Wednesday 11am to 7pm and Thursday 9:30am to 3pm.
For more information about the new PASSPORT Max HD Detector view ESCORT Inc on youtube, visit ESCORTinc.com or call the company direct at 800.433.3487.
About ESCORT Inc.
ESCORT Inc. is the designer and manufacturer of the world's most awarded radar and laser detectors, the patented ESCORT Live™ real-time ticket protection network, PASSPORT Max™ all-digital radar detector and other Drive Smarter products. ESCORT holds more than 85% of all active category patents and manufactures products under the ESCORT, PASSPORT, REDLINE, SOLO and BELTRONICS brands.
Editorial Contact:
Ron Gividen
513.870.8500
press(at)escortinc(dot)com