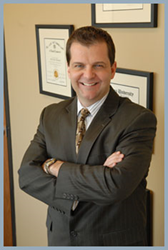 Burr Ridge, IL (PRWEB) June 23, 2014
Dr. Paul Denemark energetically invites all Burr Ridge dental patients who are suffering from bone loss, bleeding gums, and other symptoms of gum disease to find out more about the Laser Assisted New Attachment Procedure (LANAP®). Dr. Denemark offers this highly effective treatment of gum disease to Burr Ridge patients who are seeking a minimally painful and more precise alternative to traditional gum surgery methods, as it additionally provides stimulation of bone regrowth necessary for proper tooth support.
For many years, dental professionals have treated gum disease by removing the infected tissue with a scalpel and then sealing the area with sutures. While this treatment of gum disease in Burr Ridge is effective for many patients, it is fairly invasive and can potentially cause significant bleeding. With the development of LANAP®, periodontal disease patients can now receive gum disease treatment with reduced pain, minimal invasiveness, and shorter recovery times than those associated with scalpel and suture methods. Additionally, the laser utilized during LANAP® is highly accurate, only targets gum tissue that is infected, and helps to combat bone loss associated with gum disease by encouraging bone regeneration. Healthy gum tissue surrounding the infected site is not disturbed during the treatment process and patients therefore enjoy a much faster recovery period.
A serious threat that gum disease patients face is the possibility of losing significant amounts of bone leading to tooth loss. As gum disease progresses, the bone can degrade and cause one or more teeth to fall out of the mouth. As teeth are lost, the jaw bone begins to deteriorate further because it is no longer stimulated by the chewing motion of the teeth. Loss of bone in the jaw can make it more difficult to chew food and cause the teeth to shift in the mouth, moving out of their normal positions. This can lead to discomfort and can alter the aesthetic appearance of the affected patient's smile.
LANAP® can actually stimulate the regrowth of bone tissue in the jaw and naturally encourages the gums to reattach to the teeth. For these reasons, it is a highly recommended gum surgery alternative for periodontal disease patients who are concerned about bone loss due to periodontal disease.
Dr. Denemark invites all periodontal disease patients who are looking for a minimally invasive and bone friendly treatment of gum disease in Burr Ridge to call his office and schedule a consultation today.
About The Doctor
Denemark Periodontal Specialists is a periodontal practice providing personalized dental care for patients in Burr Ridge, IL. Dr. Paul Denemark received his Doctorate of Dental Surgery from the University of Illinois, College of Dentistry. He was a general dentist for six years prior to returning to school at Indiana University School of Dentistry to earn his Master of Science in Dentistry degree and research qualified certificate in Periodontics. Because of his expertise in dental anatomy, he was appointed as a Deputy Coroner for DuPage County, Illinois. He previously held the position of Clinical Periodontics instructor at the University of Illinois at Chicago, College of Dentistry. Dr. Denemark belongs to the one percent of dental professionals currently providing the Laser Assisted New Attachment Procedure (LANAP®), the first FDA-cleared laser procedure for gum disease and periodontal treatment. To learn more about the dental services available at Denemark Periodontal Specialists, please visit http://www.drdenemark.com or call (630) 297-4999.