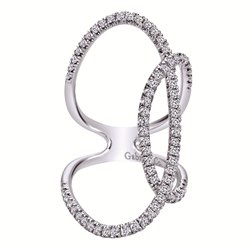 New York, NY (PRWEB) June 24, 2014
Gabriel & Co. launched five new fashionable fine jewelry collections for Fall 2014, curated by newly appointed Global Style Director, Hal Rubenstein. Hand made with 14K and 18K gold, sterling silver, diamonds, and colored gemstones, Byblos, Kaslique, Saudade, Stellaré and Amavida mark Rubenstein's inaugural collaboration with the company. A fervent jewelry lover, collector and wearer, Rubenstein carefully put together a series of styles which reflect his mantra that women should wear their best jewelry daily (instead of tucking it away for special occasions).
Rubenstein tells a different fashion story with each collection of pieces designed exclusively for the Gabriel Woman. Similar to an editorial he purposely mixed different colors, textures and finishes into a fusion of earrings, rings, necklaces, bracelets and cuffs which she can seamlessly transition between daytime and evening looks. Collection highlights include: Byblos, with its beaten sheen of sterling silver and pastel-colored semi-precious gemstones; Kaslique, a mixture of edge and sparkle, featuring diamond encrusted spikes and geometric shapes; Saudade, a delicate blend of pave diamonds, rubies and sapphires; Stellaré, a golden selection of personal pendants, earrings and rings made with soft hues of amethyst, blue topaz, green onyx, smoky quartz and diamonds; and Amavida, a bold collection of 18K gold and diamond statement pieces.
"The five new collections that I curated for Gabriel & Co are distinctive and exclusive; and yet all share a wonderful overriding philosophy – that beautifully crafted jewelry is not to be stored and saved for specific occasions," states Hal Rubenstein. "Instead, I believe jewelry should be worn every day because you never know which day is going to turn out to be special and when that happens, shouldn't you always look your best?"
About Gabriel & Co.:
Gabriel & Co. is an established fine jewelry design house. Founded in 1989 in Manhattan by brothers Jack and Dominick Gabriel, the aptly named Gabriel & Co. has grown into a world-renowned brand amongst consumers and within the fine jewelry industry. Most recently voted the most preferred and the most profitable brand by both JCK Magazine's Retailer Survey and INSTORE magazine's annual Big Survey, the story of Gabriel & Co. is one of timeless designs, hand crafted fine jewelry and stellar quality. For more information, visit http://www.GabrielNY.com.
###