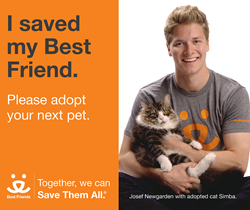 Knowing that more than 9,000 adoptable cats and dogs are killed in our nation's shelters every single day is unacceptable to me.
Los Angeles (PRWEB) June 23, 2014
One of North America's top young racing talents, Josef Newgarden remembers vividly how it felt to save the life of a shelter animal and is calling on Americans to join Best Friends Animal Society's drive to "Save Them All®."
"When I met my cat Simba, there was an immediate connection and I knew by adopting him I'd have a friend for life," Newgarden said. "Knowing that more than 9,000 adoptable cats and dogs are killed in our nation's shelters every single day is unacceptable to me so I wanted to do my part to promote adoption, foster, spay/neuter. If we work together, we can Save Them All."
Newgarden's next race weekend is a doubleheader, June 28-29, 2014 at the Shell and Pennzoil Grand Prix of Houston.
Only 23 years old, Newgarden enters his third Verizon IndyCar Series season in 2014 with Sarah Fisher Hartman Racing, his home for his entire career in North America's premier open-wheel racing series. Backing up a lightning-quick rookie season in 2012 and his first podium finish in 2013 he finished 14th in Verizon IndyCar championship points in his sophomore season, recording four top-five finishes with a career-best second place finish in Baltimore. Newgarden, a native of Hendersonville, Tenn., scored seven top-10 finishes and qualified fifth at the Grand Prix of Baltimore, his first career Firestone Fast Six qualification. In 2012, Newgarden was the fastest rookie and top Honda-powered qualifier for the Indianapolis 500.
Newgarden joins Danny Trejo, Carrie Ann Inaba, Denise Richards, Nils Lofgren, and other celebrities who will be featured in Best Friends' photo campaign featuring celebrities posed with their personal rescued dogs and/or cats in support of the Save Them All call to action.
According to national statistics, each day more than 9,000 dogs and cats die in the nation's shelters. Best Friends has brought increased awareness to how people can get involved in the solution by adopting, and spaying/neutering their pets, donating, volunteering and sharing this message with their friends.
About Best Friends Animal Society®
Best Friends Animal Society is the only national animal welfare organization focused exclusively on ending the killing of dogs and cats in America's shelters.  An authority and leader in the no-kill movement since its founding in 1984, Best Friends runs the nation's largest no-kill sanctuary for companion animals, as well as life-saving programs in partnership with rescue groups and shelters across the country. Since its founding, Best Friends has helped reduce the number of animals killed in shelters from 17 million per year to about 4 million. Best Friends has the knowledge, technical expertise and on-the-ground network to end the killing and Save Them All®.
To like Best Friends Animal Society on Facebook go to: http://www.facebook.com/bestfriendsanimalsociety.
Follow Best Friends on Twitter: http://twitter.com/bestfriends.