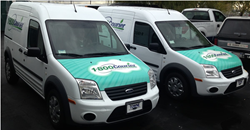 Atlanta, GA (PRWEB) June 24, 2014
1-800 Courier, a recognized leader in same-day delivery, distribution and transportation services, announces inside delivery policies for residences. The announcement is beneficial for its customers to be informed of the courier policies for residential safety and increase same-day delivery efficiency. 1-800 Courier is a courier company that strives to be the superior choice in the courier and same-day logistic solutions industry throughout the US.
Inside pick up and deliveries are strictly prohibited at residential locations by 1-800 Courier. At the pick up location, drivers can not enter into a residence to secure the letter or package in which the customer has requested the order for. 1-800 Courier drivers are only allowed receipt of it at the door. If the the driver arrives at the location and is requested to enter into the residence to wait for the package, the driver will decline and wait outside of the residence.
For requests to deliver the item into a residential destination, 1-800 Courier will only drop off the item with an approved recipient, or with the customer's consent, be left at the front door. In the event the driver is delivering a heavy box and a recipient requests for assistance to carry it inside, 1-800 Courier is still restricted from entering the home.
The 1-800 Courier inside delivery policies for residences is ultimately for the protection of its' drivers and customers. Residences have personal belongings which can be susceptible to theft, such as cash, cell phones, or vital documents. Also, drivers have no knowledge of customers and their residential environment, which could be harmful. Therefore, 1-800 Courier protects its' drivers, which are also directed to report any suspicious activity or crime, resulting in declining to perform the courier service.
1-800 Courier is a premier same-day courier offering transportation and distribution services provider. From small packages to palletized freight, 1-800 Courier delivers fast. As a leader in the courier industry, the company goal is to create optimal courier logistic solutions and provide superior customer service every time. The courier service provides same-day delivery successfully for over 1,500 clients, including Fortune 500 companies nationwide.