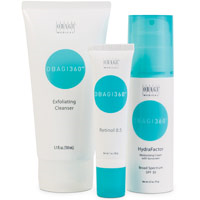 Obagi has a long-standing reputation as a trusted name in skin care. The 360 line is designed to lay a foundation for a lifetime of radiant, youthful skin.
Gold River, CA (PRWEB) June 24, 2014
SkinStore.com, the nation's leading e-commerce specialty retailer providing scientifically sound solutions for healing and maintaining healthy skin, has added the Obagi360 line to its assortment of premium products.
The Obagi360 System is designed to help establish a foundation for a lifetime of radiant, healthy, youthful-looking skin. A unique combination of active ingredients provides early intervention for fine lines and wrinkles, dullness and uneven skin tone, occasional breakouts, large pores and loss of radiance. Addressing the needs of younger clients, Obagi360 provides a complete approach to protect and preserve healthy, younger-looking skin.
The Obagi360 System Kit is a complete regimen, containing an exfoliating cleanser that works mechanically and chemically, Retinol 0.5,that gradually releases retinol to refine skin texture and tone, and a broad-spectrum sunscreen, an antioxidant moisturizer that provides SPF 30 protection.
Christina Bertolino, Senior Buying Manager at SkinStore.com, said, "Obagi has a long-standing reputation as a trusted name in skin care. The 360 line is designed to lay a foundation for a lifetime of radiant, youthful skin. "
About SkinStore.com.
Physician-founded in 1997, SkinStore carries over 300 premium brands of skin care, cosmetics, hair care, beauty tools and fragrances from around the world. With over 9,000 products to choose from, SkinStore is a leading online resource for clinical and dermatologist-recommended skin care products. Customers receive free shipping on all U.S. orders over $49, and an esthetician-staffed call center is available Monday through Friday to answer questions and offer product recommendations. The company is headquartered in Gold River (Sacramento), California with operations in Sydney, Australia and an affiliate in Hangzhou, China. For more information visit SkinStore.com, SkincareStore.com.au, or SkinStorechina.com
Contact Information
Denise McDonald, Content & Production Manager
SkinStore
http://www.skinstore.com
916-475-1427
###