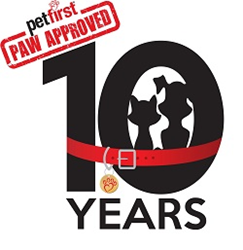 Jeffersonville, Ind. (PRWEB) June 24, 2014
PetFirst, a national pet health insurance provider headquartered in Jeffersonville, Ind., will commemorate 10 years of business in July.
"The company's official birthday is July 14," said Katie Grant, CEO of PetFirst. "And we are honored to be celebrating this occasion with our associates and their families, partners and policyholders."
With a decade of experience, PetFirst has become the nation's fastest growing name in the pet insurance industry. The company is celebrating with its associates and policyholders to commemorate the occasion, and sharing the festivities with prizes being offered nationwide.
PetFirst is giving away a $50 gift card to 10 lucky winners to be chosen from the entries in the sweepstakes. The gift card can be redeemed as credit toward a new or existing PetFirst pet insurance policy. The contest will run from June 18 – July 2, 2014.
Additionally, PetFirst will present a grand prize certificate redeemable for a free PetFirst Lifetime 5000 pet insurance policy to be given away as part of the company's week-long celebration.
"We are beyond excited, and we want to share that excitement with others," said Grant, "PetFirst celebrates the first 10 years and is looking forward to continuing to insure pets for many more years. It only seemed appropriate to give away one of our Lifetime policies that covers chronic and hereditary conditions each year that the pet is insured."
With the 10th birthday on the horizon, there has been much reflection over the national growth and recognition of the company. PetFirst began in 2004, when A. Brent Hinton, former chief officer with an animal rescue organization in Kentucky, approached successful entrepreneur Lansdon Robbins with the idea of launching the pet insurance company. Immediately recognizing the unique opportunity in the plan and realizing the need for affordable, easy-to-understand pet insurance options, he agreed to partner with Hinton in the venture.
Fast-forward 10 years, and PetFirst now holds numerous accounts with national companies including HomeAgain, Petfinder and Safeway, offering pet insurance through retail, employee benefits and animal rescue and pet recovery channels. PetFirst has grown to insure dogs and cats in all 50 states, reimbursing up to 90% of vet bills. PetFirst's most recent partnership with Healthy Pets, the largest independent pet insurance provider in the UK, is an example of how PetFirst is striving to strengthen its name and grow national consumer awareness about the value of pet insurance.
"We are proud of how far we have come this last decade," said Grant. "And we only plan to expand more. Pet Insurance is a growing industry and we are going to be here to provide for that growing consumer base."
About PetFirst
PetFirst is the fastest growing pet insurer in North America offering easy-to-understand lifelong coverage for dogs and cats. PetFirst's comprehensive coverage is unique in the industry providing simplified policies with coverage for hereditary, chronic and breed-specific conditions with no per-diagnosis limits. PetFirst offers pet insurance in all 50 states and the District of Columbia through animal welfare agencies, retailers, employers as well as other partners. PetFirst polices are underwritten by American Alternative Insurance Corporation (Munich Re) which is rated by A.M. Best as A+. Additional services are underwritten by Lloyd's. For more information about PetFirst pet insurance, visit http://www.petfirst.com or call 877-894-7387.