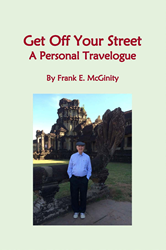 By traveling we expose ourselves to new places and ideas. Talking to your fellow travelers about their lives creates new ideas for the direction of our own path. The adventure of travel and coping with the problems can lead to creativity.
Santa Barbara, California (PRWEB) June 25, 2014
Frank E. McGinity has self-published his first book — a collection of articles that have been published in Santa Barbara newspapers and websites about his travels around the world, complete with color photographs. Readers may enjoy Frank's stories if they have had a similar travel experience, or they may even get ideas for trips they want to take.
In his Preface, Frank recalls, "When I was a sophomore at Xavier High School in New York, I never forgot a statement by our teacher, a Jesuit priest. He looked over his glasses and advised the class, 'Get off your street.' I have taken that comment to heart and have traveled the world." In his articles, Frank presents places such as Cambodia, China, Easter Island, Antarctica, and Israel from a different perspective. His angle is to give a report of his personal impressions about each country today, as well as share some of the country's rich, sometimes tragic history.
Frank muses, "I've often wondered, what is the deep reason for travel? We retire and, then, what's the first thing we say we will do? Travel. Primarily, we travel because it gives us something to do, provides entertainment and relaxation, and certainly makes us more interesting people. For me, travel provides an additional outlet in the form of travel writing and talks. And travel is good for business in that I always come up with a new idea."
Mr. McGinity, a CPA since 1973, is President of Frank E. McGinity Accountancy Corporation, and Partner in McGinity, Nodar and Daley LLC, with offices in Santa Barbara and Los Angeles. He has served as asset manager, consultant, and trustee of several large trusts. Mr. McGinity served in Japan with the U.S. Navy and reached the rank of Commander in the Reserves. He has been married to his wife, Sheila, for 50 years, and he has two grown sons. He has given talks and presentations on wealth management, and on the lives of Marjorie Merriweather Post, Nicholas Den, the McCormick Family, and composer Giacomo Puccini.
For further information or to purchase a book, contact: Frank E. McGinity, CPA, Frank E. McGinity Accountancy Corporation, 1114 State Street, Suite 250, Santa Barbara, CA 93101, Tel 805-965-2022, Fax 805-965-8032, AIHSFrank(at)aol(dot)com. Books are also sold at Tecolote Book Shop, 805-969-4977; and Chaucer's Bookstore, 805-682-6787. Additionally, "Get Off Your Street" will soon be available in ebook form from Apple, Amazon, and Barnes & Noble.