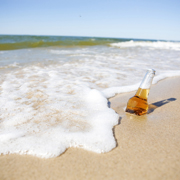 "Lightning Labels can help companies choose the right type of adhesive and paper liners for their labels, regardless of whether it's the summer or winter," asserted Julie Waldrop, Production Manager at Lightning Labels.
Denver, CO (PRWEB) June 24, 2014
Heat can be a harsh element to deal with, which is why companies need to consider durable labels for all of their products exposed to hot summer weather. Failure to consider the heat can lead to labels that may fade, fall off products or otherwise suffer damage that makes them difficult to read and reduces the marketability of the product in question.
Lightning Labels, a custom label and sticker printer, has years of experience crafting labels that can withstand sweltering heat. Rising temperatures can affect the adhesive used to stick labels to products and if this isn't considered during the label selection process, companies may find the adhesive isn't as effective as it needs to be. Labels may slip around on the product in question, particularly on some surfaces such as glass, or may even fall off completely.
The other label problem associated with the hot summer months is moisture from humidity. This can affect paper liners, resulting in label expansion or curling.
Heat can be particularly troublesome for products stored in locations that aren't carefully air conditioned. In environments such as delivery trucks or warehouses that don't release heat, temperatures can sometimes exceed 110 degrees, which is well beyond what many labels may be able to handle.
"Companies need to consider all the harsh weather conditions their products will face. Lightning Labels can help companies choose the right type of adhesive and paper liners for their labels, regardless of whether it's the summer or winter," asserted Julie Waldrop, Production Manager at Lightning Labels.
Water Resistant Labels May Also be Required
The summer heat isn't the only thing of which brands need to be aware, water resistant labels should also be considered depending on what type of product it's being attached to. Items designed to be stored outside or are used in close proximity to water sources (such as beaches and pools) may need to use water resistant labels.
Manufacturers of products that may come into contact with an unusually high amount of water, such as pool toys, sunscreen, beverages stored in ice-filled coolers and sandals, need to take this into account. Not only do damaged labels look unpleasing to the eye, they may also lead to improper use of products because instructions are faded or otherwise unreadable.
Water resistant labels improve the durability of products significantly, ensuring customers can take items to the pool, beach or anywhere else without having to worry about labels being damaged.
When Brands Produce Items, Think of the Product Labels
It's easy to forget about the small details like the adhesive and paper quality used when designing product labels, but it's crucial companies keep these things in mind. Otherwise, they may find themselves running into tricky situations once the warm summer weather rolls in.
Lightning Labels is offering 15 percent off new label orders using promo code SUMMER14 at checkout. Hurry: offer ends June 27, 2014. Does not apply to reorders. Maximum discount is $1,000. Free ground shipping applies to orders placed online only and shipped within the U.S. and Canada. This offer cannot be combined with any other offers or promotions. Visit Lightning Labels.com for more information or updated promotions.
About Lightning Labels:
Lightning Labels uses state-of-the-art printing technology to provide affordable, full-color custom labels and custom stickers of all shapes and sizes. From small orders for individuals, to the bulk needs of big businesses, Lightning Labels is equipped to handle and fulfill custom label and sticker projects of all types. Best of all, like the name implies, Lightning Labels provides a quick turnaround to every customers' labeling needs. Uses for Lightning Labels' custom product labels and custom stickers include food packaging and organic food labels, wine and beverage labels, bath and body labels, and nutraceutical products, such as vitamins, essentials oils, and herbal remedies, as well as event stickers, adhesive window stickers and more. Lightning Labels strongly supports the development of environmentally friendly printing materials and carries EarthFirst PLA, a new kind of green label material made from corn instead of petroleum. While operating as a high-tech printer, Lighting Labels prides itself on its personalized customer service. Lightning Labels provides one stop shopping for all of your custom label needs. For more information and to place orders online, visit LightningLabels.com. For the latest in packaging news and labeling promotional offers, find Lightning Labels on Twitter (@LightningLabels), Facebook, Pinterest, Google + and LinkedIn.