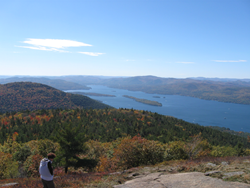 Here's your Lake George Summer Vacation Guide
Lake George, NY (PRWEB) June 25, 2014
What's the best time in summer to come to Lake George? We could suggest any time – but with a little summer vacation planning – perusing events and area attractions and activities, you'll be able to streamline your schedule and fit more into your vacation.
So, here's your Lake George Summer Vacation guide:
Lake George Weather - Weather plays a huge role in anyone's summer vacation. The best advice is to firm-up your reservations and have a contingency plan for some rainy day activities. Many of the best weather sites have very useful radar and forecast models to fine tune your summer vacation plan, say when the rain will start or stop, when the front will come through, etc. It is especially useful if you plan on renting a boat or making a reservation for horseback riding or other outdoor fun. For the best Lake George weather links, visit the Georgian Lakeside Resort Blog.
Lake George Events and Music - Lake George is flush with exciting events, concerts, kids activities, workshops, and more. Plan your vacation around a favorite event and it will make your vacation a special memory. Right down the street (5 min. walk) from the Georgian is Shepard Park. It is a delightful Village Park with picnic facilities, swimming, and a spectacular outdoor bandstand – home to many concerts and events this summer. The Lake George Arts Project Summer Concert Series (Wednesdays at 7:30 p.m.) is a winner every week this summer, beginning July 2nd (rain or shine). See the Lake George Arts Project complete summer concert schedule here. On Mondays, 7 p.m., enjoy Magical Music Mondays in Shepard Park. Musical performance by Rich Ortiz and magician Jimmy Brown. Bounce house for kids, great family entertainment. Fridays at the Lake Concert series in Shepard Park July 25, August 8, and August 22, 8 p.m. All Events and activities in Shepard Park are free.
More Lake George Music - the Lake George Music Festival is scheduled for August 14-21, and there is live music here at the Georgian Resort on The Patio – Thursdays and Saturdays. The Saratoga Performing Arts Center (SPAC) features World Class Entertainment just down the road. SPAC Complete Schedule. Visit the Georgian Resort Entertainment Page for more information on all this summer's schedules. Don't forget the Lake George Fireworks every Thursday during the summer, except July 3rd and add Friday, July 4th, and Saturday, July 5th, 9:30 p.m. Enjoy them from the Georgian Resort Patio.
Kids love the outdoors, and here's a few Lake George ideas to keep them entertained and offer them some great education as well. The Floating Classroom is great on a Lake George cruise with The Lake George Association. Leaving from Lake George Village Dock (5 min. walk from the Georgian) on Wednesdays in July and August, from 10 a.m. -12 p.m. or 1 p.m. – 3 p.m. Reservations are required. $15 adults and $9 for children under 18. Call 518-668-3558 or visit their website.
Up Yonda Farm – 10 miles from Lake George just outside Bolton Landing – great kids' programs all summer long! 8 a.m. - 4 p.m. For more great kids attractions: Natural Stone Bridge and Caves, Garnet Mine Tours, The Fun Spot and The Wild Center. Visit the Georgian Resort Summer Vacation Planner for links to all the kids attraction suggestions and for links to The Lake George Chamber of Commerce and other sites with more event listings and summer calendars.
For more information on Lake George area attractions and activities, including the Six Flags Great Escape, Lake Cruises with Lake George Steamboat Co., whitewater rafting, parasailing, boat rentals, fishing and more, visit the Georgian Resort Activities and Attractions page.
So it's raining! Many attractions and activities do go rain or shine, so check with the operator for suggestions. As an example, whitewater rafting and tubing trips do go rain or shine (no thunderstorms) – and what the heck – you're going to get wet anyway. The Lake George area has many indoor arcades, games and fun! The Fun Spot, just past The Great Escape, has plenty of indoor games and kids fun.
More Indoor Attractions: The Hyde Collection (art museum) in Glens Falls, The Chapman Museum (great exhibit "At The Lake"), The Adirondack Museum, and World Awareness Children's Museum, Glens Falls, NY. Links to rainy day activities at The Georgian Resort Summer Vacation Planning Guide.