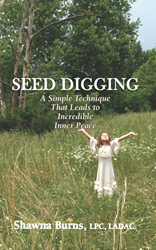 There is something that goes beyond coping skills and there is hope for true and sustained healing.
Altena, AR (PRWEB) August 27, 2014
Shawna's new book, released in ebook and paperback format in August 2014, is about Seed Digging, which a brand-new technique she created. Seed digging incorporates several traditional mental health therapy models, yet works to bring permanent healing quickly.
According to Burns, Seed Digging sees people with addictions and mental health disorders cured on a daily basis. It teaches people how to remove clutter from their own minds and find incredible inner peace with only a few simple steps.
Burns has taught several people, including young children to use this technique themselves, and she is astonished at the results. She shares that children are reaching components of "Self-Actualization" with this technique. According to renowned psychologist Abraham Maslow, this happens in less than one percent of the adult population. Burns states, "Seed Digging is a very simple concept, yet brings quick and lasting results."
She wrote the book for those who are tired of living with addictions or mental health disorders; mental health professionals who are tired of bandaging symptoms; school counselors to use as a brief therapy model; veterans and those serving in active duty who struggle with PTSD; those who simply want to experience positive and permanent change in their lives; as well as parents and guardians who long to see their children live with internal happiness and peace.
The paperback and ebook versions of Seed Digging can be purchased on Shawna's website at http://www.seeddigging.com.
Testimonials:
"I have lost so much weight because I don't binge on food anymore." –Kari
"My son no longer goes into violent rages." –Susan
"The cigarette cravings are finally gone!" –Gary
"The migraines have completely stopped." –Sarah
"The nightmares never returned." –Sam
"I have my family back. Alcohol no longer controls my life." –Corey
"The panic attacks are gone!" –Masey
"I don't cut my arms when I'm sad. I really like my life now." –Lexi
Shawna Burns is a Licensed Professional Counselor and Licensed Drug and Alcohol Counselor. She has a Master's Degree in Rehabilitation Counseling from the University of Arkansas at Little Rock. She has worked with children and adults for the past decade and has been a Clinical Supervisor and Regional Manager at a large counseling agency in Northwest Arkansas. Before becoming a counselor, she taught Special Education in a public school setting. She is working on several more books: "Digging Deeper: Advanced Techniques in Seed Digging," "Sowing Happy Seeds and Preventing Weeds in your Child's Garden: A Parent's Guide to Seed Digging Prevention," "Sowing Happy Seeds and Preventing Weeds in a Child's Garden: A Teacher's Guide to Seed Digging Prevention," "Spiritual Depths of Seed Digging," and a children's series called "Yucky, Stinky Fruit."