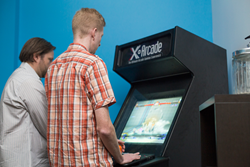 'I believe you create the right experience and environment, and you'll create a culture that will naturally drive the results you're after,' said Bruce Westenskow, CLEARLINK CTO.
Salt Lake City, Utah (PRWEB) June 23, 2014
IDG's Computerworld announces CLEARLINK as a 2014 Best Places to Work in IT, one of 100 top organizations that challenges their IT staffs while providing great benefits and compensation. CLEARLINK was ranked # 19 in the Midsize category, and was one of two in Utah. See the complete list of honorees and read CLEARLINK's Best Places spotlight.
"It is an honor to be nationally recognized, especially when based on our employees' feedback. Their experience and vote is what makes this meaningful," said Bruce Westenskow, CLEARLINK CTO. "Our employees are our greatest asset and the key to our success. We will continue to invest in them, create an environment of opportunity and make them aware of their value."
CLEARLINK began in Utah over ten years ago as a web-design agency with deep technology roots. With over 1,200 local employees, the company's success is continually re-invested in engaging employees. Ongoing development opportunities, tuition reimbursement, flexible work schedules and 100% employer paid health care are a few benefits. The IT department at CLEARLINK gives technologists the freedom to solve problems and be uniquely creative. The team participates in 'Brain Share Fridays' and creates open forums to share ideas, keeping CLEARLINK on the cutting edge of technology. Managers focus on the culture and daily experience of their employees to generate an authentic connection within their teams, rather than manage their actions.
"Hiring the best and the brightest IT pros, offering them competitive pay and providing top-notch benefits is just the beginning for the outstanding employers on this year's Best Places to Work in IT list," said Scot Finnie, Editor in Chief of Computerworld. "Both newcomers to the list and rock-steady stalwarts nurture their talent with challenging business-critical projects, extensive training opportunities and ongoing career development programs. They invest in their own futures by investing in their employees."
About the Best Places to Work in IT
The Best Places to Work in Information Technology (IT) list is an annual ranking of the top 100 work environments for technology professionals by IDG's Computerworld. The list is compiled based on a comprehensive questionnaire regarding company offerings in categories such as benefits, career development, training and retention. In addition, Computerworld conducts extensive surveys of IT workers, and their responses factor heavily in determining the rankings.
About CLEARLINK
CLEARLINK partners with the world's leading brands to extend their online and offline marketing reach, drive and fulfill valuable sales transactions, and deepen the insights brands have of their consumer's behaviors and response. Through CLEARLINK's customized sales and marketing solutions and proficient sales professionals, they have delivered millions customers to their brand partners over the past ten years.
In 2013, CLEARLINK was named one of America's top 100 companies to work for according to Outside magazine, and CEO, Phil Hansen was recognized as the Ernst & Young Entrepreneur of the Year® in the Services category of the Utah Region. Recently, in 2014, CLEARLINK's technologists received an Optie Award for Best Advanced Feature Use and the Silver Stevie Award for Best Use of Technology in Sales.
CLEARLINK, headquartered in Salt Lake City, Utah and established in 2003, employs over 1,200 local sales, technology and marketing professionals. For an opportunity to join the growing CLEARLINK family, visit http://www.clearlink.com/jobs.
About Computerworld
Computerworld is the leading IT media brand helping Sr. IT, business decision-makers and key influencers navigate change with effective business strategy. Computerworld enables the IT value chain with unique editorial coverage from setting strategies to deriving value from core to edge technologies. Computerworld's award-winning website (http://www.computerworld.com), publication, focused conference series, custom solutions and research forms the hub of the world's largest (40+ edition) global IT media network and provides opportunities for IT vendors to engage this audience. Computerworld leads the industry with an online audience of over 7.1 million monthly page views (Omniture, February 2013) and was recognized in BtoB's 2013 Media Power 50 list; recognition Computerworld has received for more than 5 consecutive years. Computerworld is published by IDG Enterprise, a subsidiary of International Data Group (IDG), the world's leading media, events and research company. Company information is available at http://www.idgenterprise.com.
Media Contact
Tarah Reeves
Director of Public Relations
CLEARLINK
Tarah(dot)Reeves(at)clearlink(dot)com