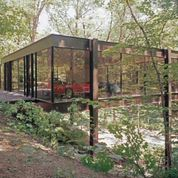 Pompano Beach, FL (PRWEB) June 24, 2014
"Ferris Bueller's Day Off" Movie House Sold For $1.06 Million
From: TopTenRealEstateDeals.com
After five years on and off the market, one of the most famous homes in movie history has sold. The home that starred in the film, "Ferris Bueller's Day Off," where the red 1961 Ferrari 250 GT California Spyder convertible fell from its jacks and went careening through the plate glass wall into the ravine below sold for $1.06 million. It was originally priced at $2.3 million.
The steel and glass contemporary home was built in 1953 in suburban Chicago by Ben Rose, an artist and world-renowned, hand-screen textile and wallpaper designer. He and his wife, Frances, built the house with features such as moving walls of glass and suspended sections that was years ahead of almost any other home in the middle of the United States.
The coming-of-age film starred Matthew Broderick as Ferris, who just wanted to play hookie from school for a day to explore and enjoy the city of Chicago for one last time before the responsibility of college began. With all parents at work, Ferris, his best friend, Cameron, and girlfriend, Sloan, embarked on their see-the-city tour in Cameron's dad's Ferrari. With many mishaps along the way and being trailed by the school dean and Ferris's sister, the film turned out to be the biggest box office hit of 1986.
The home was designed by A. James Speyer, a prominent architect and professor at Illinois Institute of Technology where he was an associate of Ludwig Mies van der Rohe. Speyer eventually became even more well known for his creative work at The Art Institute of Chicago. In 1961, Speyer became the curator of Twentieth Century Paintings and Sculpture at the museum where he worked until his death in 1986.
At 4,300 square feet, the Bueller home consists of four bedrooms and four baths and is situated on one acre of wooded land. In 1958, the house was one of twelve homes in the nation featured in a Bethlehem Steel publication promoting the use of steel framing for residential design. In addition to being a talented artist, Ben was also an enthusiastic car collector, which resulted in the car pavilion being added to the house in 1974. The garage pavilion, where the Ferrari was parked in the movie, was designed by Speyer's student, David Haid. The combination of talents between the Roses, Speyer and Haid created what is considered by some to be the epitome of a sophisticated adult treehouse.
The movie was written, produced and directed by John Hughes, who created a number of Hollywood's best known teen-oriented films and life lessons including "Sixteen Candles," "The Breakfast Club," and "Pretty in Pink." Hughes wrote the entire "Ferris Bueller's Day Off" script in under a week. Teenage lesson learned? You can't remove mileage from an odometer by running a car in reverse.
"Ferris Bueller's Day Off" house, designed by A. James Speyer for famous textile designer recently sold for $1.06 million. It was originally listed in 2009 at $2.3 million, the price was cut to $1.5 million, and the most recent asking price was $1.25 million. The listing agent was Meladee Hughes of Coldwell Banker Residential Brokerage in Chicago.
Visit TopTenRealEstateDeals.com for more celebrity, historic, famous and spectacular homes.