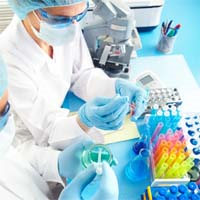 These four miRNAs may be suitable biomarkers for distinguishing MPM from RMPs.
Raleigh, NC (PRWEB) June 27, 2014
Scientists at Copenhagen University in Denmark say tiny cell components called microRNAs could help doctors distinguish malignant pleural mesothelioma from non-cancerous conditions and start treatment earlier. Surviving Mesothelioma has just posted an article on this important discovery. Click here to read it now.
Researchers in pathology, oncology and thoracic surgery at Copenhagen University Hospital in Denmark screened 742 microRNAs (miRNAs) to identify those most closely associated with mesothelioma. MiRNAs are small strands of RNA that direct a cell's actions by switching on or off protein synthesis.
"Overall, these results indicate that these four miRNAs may be suitable biomarkers for distinguishing MPM malignant pleural mesothelioma from RMPs [reactive mesothelial proliferations]," writes lead investigator Morten Andersen, MS, of the Laboratory of Molecular Pathology of Copenhagen University Hospital.
The study published in The Journal of Molecular Diagnostics named miR-126, miR-143, miR-145, miR-652 as the key biomarkers to look for in diagnosing mesothelioma. When the researchers analyzed for these four miRNAs in healthy tissue samples and in tissue samples from people with confirmed mesothelioma, they found the test to be 94% accurate.
"Early, accurate diagnosis is the key to surviving mesothelioma," says Alex Strauss, Managing Editor of Surviving Mesothelioma. "If these results can be validated, miRNA testing has the potential to dramatically improve outcomes for thousands of people with this deadly cancer."
To better understand how this study may impact mesothelioma diagnosis and prognosis, see New Biomarkers Could Lead to Faster, More Accurate Mesothelioma Diagnosis now available on the Surviving Mesothelioma website.
Andersen, M et al, "Diagnostic Potential of miR-126, miR-143, miR-145, and miR-652 in Malignant Pleural Mesothelioma", June 9, 2014, The Journal of Molecular Diagnostics, Epub ahead of print, http://jmd.amjpathol.org/article/S1525-1578(14)00066-X/abstract
For nearly ten years, Surviving Mesothelioma has brought readers the most important and ground-breaking news on the causes, diagnosis and treatment of mesothelioma. All Surviving Mesothelioma news is gathered and reported directly from the peer-reviewed medical literature. Written for patients and their loved ones, Surviving Mesothelioma news helps families make more informed decisions.