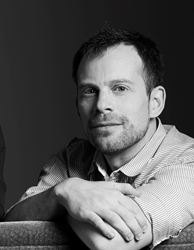 Javier is an inspirational leader with the passion, portfolio and experience to capture the hearts and minds of our people and continue our rich creative heritage
Miami, FL (PRWEB) June 23, 2014
Saatchi & Saatchi and Conill today announced the appointment of Javier Campopiano as Chief Creative Officer, Latin America and Multicultural USA. In this newly created role, Mr. Campopiano will set the creative tone and agenda for the network's agencies in Latin America and have ultimate responsibility for the creative teams and work at Conill.
"We have redefined and combined the roles of top creative for the LATAM region and Conill in order to draw the best of our people in a changing communications landscape," said Cynthia McFarlane, Chairman/CEO of Latin America and Multicultural USA. "We have a deep bench of outstanding talent throughout our network. Javier is an inspirational leader with the passion, portfolio and experience to capture the hearts and minds of our people and continue our rich creative heritage."
A globally recognized creative talent, Mr. Campopiano (39) is the recipient of numerous industry awards, including Cannes, Clio, The One Show, FIAP, El Ojo de Iberoamérica, El Círculo de Creativos Argentinos and Sol de Iberoamérica. He was most recently Chief Creative Officer at FCB Garfinkel (formerly FCB New York), where he created campaigns for such clients as FDA, Amtrak, Jamaica Tourist Board, ASPCA and Beiersdorf. He was formerly a highly-valued Regional Creative Director at hothouse Del Campo Saatchi & Saatchi in Argentina.
"Saatchi and Saatchi and Conill have an incredible legacy of investing in and nurturing the creative product," said Mr. Campopiano. "Conill was a pioneer in the U.S. Hispanic marketplace, making the leap from just adapting stuff to creating great work. It is a highly ambitious place, with huge expectations and a purpose that exceeds any standard label or market definition. It has grown healthy and consistently and is, in my opinion, the best prepared shop for the new America."
Carlos Martinez, President of Conill added, "Javier will be a fabulous leader and mentor for our teams. He knows the U.S. marketplace, is familiar with the Saatchi & Saatchi family and has a storied reputation in the creative community. We couldn't ask for a better partner."
As Chief Creative Officer for both FCB Buenos Aires and FCB LATAM, Mr. Campopiano created several of the most awarded efforts of the network, such as "Zombie Grandma," for Zonajobs; and "3D Theater" and "Choose Later" for JVC Cameras. These efforts, among several others, led FCB Buenos Aires to become the best Argentine agency at Cannes 2012 and FCB LATAM to its best historical performance at the festival to that date.
Among Mr. Campopiano's notable accomplishments during his previous experience at Saatchi & Saatchi is the Teletransporter campaign for Andes Beer that earned the 2010 Outdoor Grand Prix at Cannes. The experiential effort featured sound-proof booths with multiple environmental soundtracks to create background sounds men needed to convince loved ones why they should stay out late – all to spend more time with friends and Andes.
Commenting on his role in Saatchi & Saatchi Latin America, Mr. Campopiano said, "the LATAM region is in an awesome place right now. While it has always been a reservoir of fresh creativity, there was some disconnect with the realities of global business in the past. That is radically different today, and the world is expecting highly effective game-changing ideas from Latinoamerica. I couldn't be more enthusiastic."
About Saatchi & Saatchi Latin America
Part of the Publicis Groupe, the 3rd largest communications holding company worldwide, Saatchi & Saatchi's Network clients include Diageo, Carlsberg, General Mills, HSBC, Lenovo, Mead Johnson, Mondelez International, Novartis, Procter & Gamble, T-Mobile, Toyota and Visa Europe. With 130 offices and over 6000 employees, Saatchi & Saatchi is known for its outstanding creative ideas that generate powerful emotional connections between consumers and products. This is a key element in Lovemarks, Saatchi & Saatchi's unique methodology for elevating the status of brands by creating 'loyalty beyond reason' and 'inspirational consumers'.
http://www.saatchi.com
About Conill
Conill is among the most highly awarded Latino agencies in the U.S. and is a four-time recipient of the prestigious American Association of Advertising Agencies' O'Toole Multicultural Award. It was named Multicultural Agency of the Year by leading industry trade publication Advertising Age in 2010 and 2007. The agency's roster of clients includes Aflac, Procter & Gamble, T-Mobile and Toyota Motor Sales.
http://www.conill.com | @Conill