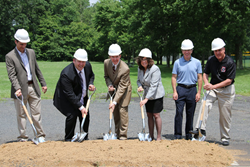 Plumsteadville, PA (PRWEB) June 27, 2014
Friday, June 13, 2014 may have been Plumstead Christian School's last school day before their summer vacation, but it also marked the beginning of an exciting multi-million dollar facility expansion. Plumstead Christian School administration, school board, and other friends of PCS gathered behind the current school building in Plumsteadville, PA for a groundbreaking ceremony. Also present at the groundbreaking were Dan Hilferty, Chairman of the Board of Supervisors for Plumstead Township and Margaret McKevitt, Coordinator, Economic Development and Planning Services representing Bucks County.
Mr. Patrick Fitzpatrick, Plumstead Christian School's headmaster, welcomed the crowd and introduced Mr. Rick Millham, the school's chairman of the board. Rick talked about the 66 year history of the school and the positive impact that the school has been on several generations of students. He also reaffirmed the commitment that Plumstead Christian School has to provide a caring environment where students are taught to think biblically, serve effectively, and lead Christ-centered lives. Mr. Millham's prayer of dedication was followed a reception in the school's newly renovated library.
Work on the site improvements began shortly after the ground breaking ceremony, and projected completion of the 3.2 million dollar addition is August, 2015. The new addition adds a second, larger gymnasium including theater space, new restroom facilities, and a spacious lobby.
"We have strong athletic and fine arts programs that have always had to juggle one multi-purpose space," says Patrick Fitzpatrick. "Having a larger second gymnasium with a state-of-the-art theater space will allow both of these programs to grow in excellence in facilities for students, our PCS family, and the community to enjoy. While many schools are cutting back on athletics and performing arts, Plumstead Christian School views these as essential co-curricular activities that profoundly and positively shape the lives of their students."
About Plumstead Christian School
Plumstead Christian School is in its 66th year as a Christ-centered, nondenominational, college preparatory school that serves prekindergarten through 12th grade students on two spacious campuses in Bucks County, PA. The school's mission is to provide a caring community where students are educated to think biblically, serve effectively, and lead Christ-centered lives.
Through the years Plumstead Christian School has developed a solid reputation in academics, athletics, and the arts. Ninety-eight percent of all recent graduates attend four year colleges and universities, and many students earn college credit–top students as much as forty five credit hours through the extensive Advanced Placement courses offered at PCS. Recent graduates have been accepted to a variety of top ranking schools including Drexel University, Gordon College, Grove City College, Lehigh University, the Massachusetts Institute of Technology, Taylor University, Temple University, the United States Air Force Academy, the University of Pennsylvania, Wake Forest University, Wheaton College, and Villanova University.
Plumstead Christian School is also known regionally for its Founders Forum, a speaker series that attracts some of the most influential Christians of our time. In recent years Plumstead Christian School has hosted former Alaska governor Sarah Palin, President George W. Bush, Tim Tebow, Dr. Ben Carson, and Al and Phil Robertson of A&E Duck Dynasty fame.
More information about Plumstead Christian School can be viewed online at http://www.pcspa.org.