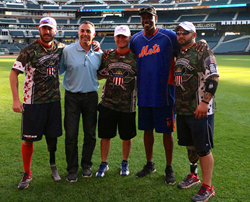 New York, NY (PRWEB) June 23, 2014
Mets baseball legends John Franco and Dwight "Doc" Gooden joined Citi and members from the Wounded Warriors Amputee Softball Team for a special charity softball game at Citi Field on Wednesday, June 18 that raised over $25,000 to benefit Fisher House Foundation.
Lonnie Gaudet, Greg Reynolds and Nick Clark served as captains of the Wounded Warriors Amputee Softball Team during the game, which saw 30 other participants take the field for charity.
Lonnie Gaudet joined the Army and was stationed in Afghanistan when he was injured in a blast that took his lower right leg. He became medically retired in August 2012 and currently lives in Wayland, NY.
Just before his second tour of duty in June 2008, Greg Reynolds was involved in a terrible car accident, which resulted in Greg suffering from traumatic brain injury, amputation of his left arm, shoulder, clavicle and scapula, and numerous other injuries. Since recovering, Greg participates in adaptive sports clinics around the country and is active in giving back in his community.
Nick Clark served in the Army when he was injured in June 2007, resulting in the amputation of his left leg below the knee. He has been involved with the Wounded Warrior Amputee Softball team since its inception.
This is the third year Citi and the New York Mets have held this fundraiser to support Fisher House Foundation.
About Fisher House Foundation
Fisher House Foundation is best known for a network of comfort homes where military and veterans' families can stay at no cost while a loved one is receiving treatment. These homes are located at major military and VA medical centers nationwide, and in Europe, close to the medical center or hospital it serves. Fisher Houses have up to 21 suites, with private bedrooms and baths. Families share a common kitchen, laundry facilities, a warm dining room and an inviting living room. Fisher House Foundation ensures that there is never a lodging fee. Since inception, the program has saved military and veterans' families an estimated $235 million in out of pocket costs for lodging and transportation.
Fisher House Foundation also operates the Hero Miles Program, using donated frequent flyer miles to bring family members to the bedside of injured service members as well as the Hotels for Heroes program using donated hotel points to allow family members to stay at hotels near medical centers without charge. The Foundation also manages a grant program that supports other military charities and scholarship funds for military children, spouses and children of fallen and disabled veterans.