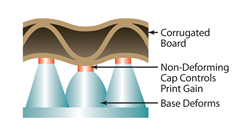 AVCAP enables printers to control print gain under impression for high quality and process color printing
Bryan, Ohio (PRWEB) June 24, 2014
AVCAP, a new AVantage® liquid photopolymer capping resin that enables printers to significantly improve print quality and performance, has been introduced by Anderson & Vreeland, Inc., leading manufacturer and distributor of flexographic plate processing equipment and materials.
AVCAP is designed for use with softer-base liquid photopolymer plates used for multi-wall, folding carton, corrugated and wide web printing applications. The addition of AVCAP during the platemaking process creates liquid photopolymer plates that can image the finest details while maintaining clean, open reverses. The 60 durometer (Shore A) photopolymer resin broadens overall tone range from 2-95% @ 133 lip, improves ink transfer, reduces dot gain, and provides excellent coverage of solids while minimizing fluting.
"AVCAP enables printers to control print gain under impression for high quality and process color printing," said Randy Reynolds, AVantage® Business Development Manager. The new liquid photopolymer capping resin is available in 20 lb. and 40 lb. delts.
AVCAP compliments the AVantage® product line of liquid photopolymer resins designed for printing on corrugated board, multi-wall bags/sacks, molding applications, and for the production of hand stamps. In addition to exceptional value and quality, AVantage® liquid photopolymers offer a number of environmental advantages since they do not use solvents or VOCs, consume less energy during processing, and the un-imaged photopolymer can be reclaimed and reused.
Anderson & Vreeland has over 50 years experience supplying platemaking equipment and materials to the flexographic printing industry and 30-plus years experience in liquid photopolymer technology. For further information, contact your Anderson & Vreeland representative or visit http://www.AndersonVreeland.com.
About Anderson & Vreeland, Inc.
Founded in 1961, Anderson & Vreeland has earned an international reputation as a leading provider of flexo prepress solutions for the graphic arts industry. The company offers a "systems" approach to conducting business by evaluating customer needs and offering the best solutions in the form of equipment, materials, training, and technology tailored for each customer. A&V supports these solutions with over 50 years of experience and a staff of technical sales representatives thoroughly knowledgeable about the fine points of flexo. The company's substantial flexo experience and technical support sets it apart from other prepress suppliers. This experience and support results in smoother and easier integration of technical advancements affecting flexo prepress. Further information is available on the web at http://www.AndersonVreeland.com.