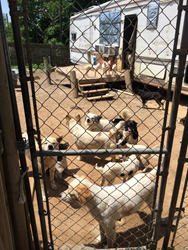 I expect to pass through this world but once. Any good therefore that I can do, or any kindness or abilities that I can show to any fellow creature, let me do it now. Let me not defer it or neglect it, for I shall not pass this way again. – William Penn
York, South Carolina (PRWEB) June 26, 2014
Holcombe Organics recently teamed with other York County, SC animal rescuers when asked to help a Vietnam veteran who had, over several years, picked up stray dogs and was doing his best to care for them. This good man lives in a camper surrounding by a large fenced area where more than 30 dogs were living together and reproducing. Unfortunately, he could only afford to feed the dogs but could not afford veterinary care. With the help and agreement of the veteran, a decision was made to take a few dogs at a time, have them vaccinated and sterilized at no charge to the veteran, and then put them in the care of responsible rescue groups who would find them loving, forever homes. Holcombe Organics agreed to foster an adult female and a male puppy after their vetting was complete and until they could be adopted or transported to a northern rescue group. The female, Tinkerbell, is afraid and not socialized and she requires hours of interaction. She is also heartworm positive which will require treatment. The male puppy (called Piglet because of a deformed tail that has a curl in it), will be driven to a rescue group in New Jersey this week.
All the dogs are dirty and smell so bad that the volunteers transporting them in their cars can hardly stand the stink. So Holcombe Organics is donating containers of FurRefresh dry pet shampoo to clean the dogs. Applying FurRefresh is something the Vietnam Veteran can do himself since it's only a matter of sprinkling on, massaging in and brushing out to clean and deodorize the dogs and to give them a pleasant aroma. FurRefresh will also help repel insects, calm itchy skin, and since it's all-culinary, it cannot harm the dogs or puppies if they lick it.
The Vietnam Veteran is grateful for the help with vetting and reducing the number of dogs for which he's caring. He will keep a few spayed/neutered dogs for company. The rest will, with the help of the Team, find loving, permanent homes. Working together as a team to share the responsibilities for coordination, transportation, fostering, supplies, and fundraising are Project Safe Pet, Second Chance Rescue, Holcombe Organics, The Animal Adoption League and The Greater Charlotte SPCA.
About Holcombe Organics and FurRefresh:
FurRefresh was formulated by Holcombe Organics and refined for two years before making it available to the public in 2013. It was developed to meet the need of challenges arising from a passion for animal rescue. Holcombe Organics has rescued hundreds of animals from high-kill shelters, from abusive or neglectful situations or as strays for more than 25 years. Most of the animals arriving are thin, some emaciated, nearly all dirty and smelly. Most dogs are too traumatized to bathe and cats truly demonstrate their objection to baths, traumatized or not. What was needed was a great dry shampoo that would clean them in a manner that was soothing and enjoyable. Dry shampoos were available but some were not chemical-free, some obtained therapeutic oils that can be dangerous if ingested, some were unclear about ingredients. Holcombe Organics requirements were that the shampoo be totally safe, made from all culinary ingredients that could be licked without harm, that could clean, deodorize and condition, that could help repel insects, and that could calm itchy skin. In addition, wonderful scents needed to be created using culinary spices that could provide aromatherapy and health benefits. Finally, the shampoo and its container had to be Eco-friendly or Green. Since no dry shampoo met Holcombe Organics requirements, FurRefresh was created. For more information, please visit our website, http://www.holcombeorganics.com, email us at holcombeorganics(at)gmail(dot)com, or call us at 803-628-6000.