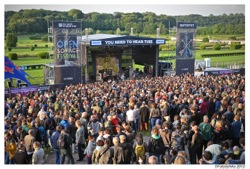 30 bands, live acts and DJs from all over the world will make this year's festival on July 12 another highlight on Europe's electronic and indie music scene.
Düsseldorf, Germany (PRWEB) June 24, 2014
An extra indoor stage – now four instead of three -- and extended outdoor performance hours are just two signs that Düsseldorf's "Open Source Festival," now in its 9th year, is growing and attracting more and more indie, hip hop and dance music fans from all over the world with its unique settings and superb line-up of musicians and DJs. 30 bands, live acts and DJs from all over the world will make this year's festival on July 12 another highlight on Europe's electronic and indie music scene.
Both format and program are unique and marked by creativity and fascinating collaborations. The popular format is a combination of indoor and outdoor performances, and the main stages are located at Düsseldorf's beautiful horse track for the outdoor daytime and evening performances (beginning at 1:00 PM and hours extended until midnight for the first time this year). Venues in Düsseldorf's city center host events and dancing till dawn, and a new, fourth stage has been added this year, called "Teehaus" (tea house). The other three stages are: Mainstage, Carhartt Wip Stage, and Young Talent Stage. One part of the stages – a rehearsal space – will be constructed of cargo containers in a design by students from a local interior design school.
The following international line-up of artists has been confirmed: Max Herre & Kahedi Radio Orchestra, Mtv Unplugged Live featuring Joy Denalane, Afrob, Megaloh, Grace and others. Also: Ry X, Panda Bear, Dean Blunt, Koreless, Douglas Dare, Hackney Colliery Band, Retrogott & Hulk Hodn, Razz, Young Wolf, Bar, Akira, Cellar, Yaya, Vladimir Ivkovic, Quartier Midi, Serge P, Patrick Schulze, Klangtherapeuten, Jon Sine, Baal & Mortimer, Bergfilm, Inca Orca, Kuf, Mxm, Søyl, The Day. From the US, NYC-based Hercules & Love Affair will be there.
In addition to established talent, as in previous years, the winners of a contest for emerging artist will perform. Seven bands, chosen by a jury out of 70 applicants, will perform at the "Young Talent Stage."
Another highlight is this year's festival cooperation with Düsseldorf's ongoing "Quadriennale," a fine arts festival that takes place every four years. The art festival's 2014 theme is "Beyond Tomorrow – How Artists See the Future," and OSF ties in with its own title "Music – Beyond Tomorrow" and an additional music program that begins four weeks prior – on June 14, 2014 – with music performances at several Quadriennale venues. Artists included in the Quadriennale music program include "Brandt Braher Frick" and "Mouse on Mars." A limited number of combined Quadriennale/OSF tickets are available at http://shop.open-source-festival.de/.
For more information about OSF, please visit: http://www.open-source.festival.de.
Düsseldorf's tourism office is offering hotel and city specials for many of the city's events throughout 2014, including OSF. The package, called "Düsseldorf à la Card," can be booked right from the tourism office's website at https://www.duesseldorf-tourismus.de/en/hotel-packages/duesseldorf-a-la-card/. Prices start at €49 per night per person based on double-occupancy for a 2-3-star hotel in the city center and at €95 per person for a 4-star hotel. The package includes breakfast, one DüsseldorfCard (free public transportation within city limits plus 30 free or reduced admissions to city attractions), and a city information package. Please check the website for current information.
For more information about the destination Düsseldorf, please visit: http://www.visitduesseldorf.de.
###
Düsseldorf Marketing & Tourism GmbH is the visitors and convention bureau of the city of Düsseldorf. Its responsibilities include tourism and city marketing, as well as conference and meeting marketing, hotel reservation services, fairs and convention services, city event ticket sales and advance ticket reservations. For more information, visit http://www.visitduesseldorf.de.
Düsseldorf Airport, Germany's Next Generation HubTM, offers several non-stop flights from US & Canadian cities (Atlanta, Chicago, Ft. Myers, Los Angeles, Miami, New York, Newark, Toronto), as well as convenient connections to many European cities. For more information about the airport, visit http://www.dus.com.