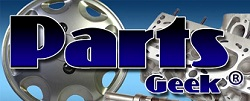 (PRWEB) June 24, 2014
Parts Geek, a leading online auto parts retailer, is pleased to announce that they have recently expanded their tire pressure monitoring systems (TPMS) sensor line by adding over 993 new products. A complete list of their TPMS sensor line products can be viewed by clicking the following link: http://www.partsgeek.com/parts/tpms_sensor.html.
TPMS sensors are a vital component of a vehicle as their purpose is to monitor the amount of air inside of a tire. When TPMS sensors are functioning properly, drivers will be able to avoid accidents that may have otherwise been caused by under-inflated tires that were not recognized by the sensor. If a driver finds that one of their TPMS sensors are malfunctioning, they can go to PartsGeek.com and choose from over 5,600 TPMS sensor products.
In addition to expanding their TPMS sensor line, Parts Geek has also added the Schrader Valves brand of products. Schrader is a leading designer and manufacturer of valves as well as many other electronic and mechanical parts. To view their line of valves, please click the following link: http://www.schraderinternational.com/Schrader-Past-To-Present/Pioneering-TPMS?sc_lang=en-US-NA. For over a century, vehicle owners have chosen Schrader because they consistently offer innovative products and solutions. Other top brands Parts Geek also has available includes: Dorman, Genuine, OES Genuine, Replacement, Standard Motor Products, Huf North America and VDO.
Parts Geek has acquired a 4.9 out of 5 star rating for their TPMS sensors. In fact, someone who ordered a Replacement brand TPMS Sensor had this to say about their experience: "I desperately needed Four Tire Pressure Monitors for my 2009 Chrysler Town & Country. I had called the parts department of the Chrysler dealership where I had purchased the vehicle and was quoted a price far above Parts Geek. I saved approximately $40.00 Per TPMS. Thank you Parts Geek." To read more reviews about their TPMS sensors, please visit their website today.
About the Company:
At Parts Geek, they offer the best and most competitive prices on imported and domestic car parts. They also offer automobile accessories, and many of their items ship quickly—all from warehouses scattered throughout the US. Customers can pick from thousands—if not millions, of new automotive parts, refurbished/rebuilt parts, and more from reliable and certified manufacturers. To learn more please visit http://www.partsgeek.com.