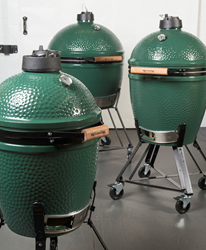 Newton Lower Falls, MA (PRWEB) June 24, 2014
Newton Lower Falls, MA (PRWeb) – Local Root, the kitchen store, recently announced they have added the Big Green Egg to their cookware collection. Modeled after the ancient "kamado" ceramic cooking vessel, this line of charcoal grills and grilling tools are the perfect accessories for the avid outdoor cook.
The round shape and durable ceramic construction of the Big Green Egg help it to heat well and evenly, maintain a specific temperature for extended periods of times, and offer superior grilling results. It also has oven and smoker capabilities. The Big Green Egg comes in 5 different sizes ranging from mini to xlarge, offering an option for every need.
In addition to the grills themselves, the Big Green Egg also makes grilling tools and grill additions, like attachable counter space, grill lifts, and eco-friendly organic lump charcoal.
The Big Green Egg selection is currently available to shoppers at the Newton Lower Falls location of Local Root. For more information, please call us at 617-916-1943, or visit: http://www.localroot.com/big-green-egg.html.
About Local Root:
Established in 2012, Local Root is one of the premier kitchen stores in the Greater Boston area, awarded Best of Boston 2013 by Boston Magazine. Offering a diverse range of cooking tools, kitchen knives, cookware and bakeware for the chef and home cook alike, Local Root also provides professional in-house knife sharpening.
Local Root offers only the highest quality products from great brands like Mauviel, Le Creuset, All Clad, Alessi, Pillivuyt, Emile Henry, Le Creuset, Berti, Friedr Dick, David Mellor, Rosle, Kyocera, Sodastream, Vitamix, and more.
Local Root is located at 221 Concord Ave. on Observatory Hill in Cambridge, with a new store now open in The Mill at Newton Lower Falls, 2284 Washington St. You can also visit them online at LocalRoot.com.