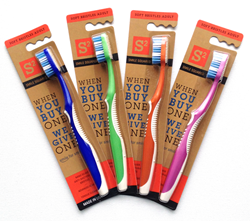 "I feel good about using and recommending Smile Squared toothbrushes because of the quality of the product and the mission of improving dental health worldwide." - DR Altenberg DDS
(PRWEB) September 02, 2014
Smile Squared, a well-known Buy One, Give One company, is expanding their product offering to include a US-made toothbrush. For every toothbrush purchased, Smile Squared gives one to a child without one.
"Smile Squared was created by my wife and me after volunteering at a dental clinic in Guatemala," said Eric Cope, President of Smile Squared. "There, we saw children who had preventable and sometimes severe dental problems. But many of the same children didn't own a toothbrush. We wanted to do something to help, so we identified a small solution: giving toothbrushes to children who need them. We're based in St. Louis so we are thrilled that Schnucks will be carrying our toothbrushes. Locally, we donate toothbrushes through Give Kids A Smile, a St. Louis not-for-profit which provides free dental care and education for underserved children. Anytime you buy a Smile Squared toothbrush, we'll give one to a child in need. It's that simple. Together, we'll take small steps for big change."
Smile Squared has already given away toothbrushes that have reached communities in all 50 US States and in 20 countries worldwide. The company aims to give away one million toothbrushes annually. The new Smile Squared toothbrush features an advanced design, is made in the USA, and features antibacterial bristles utilizing nano-silver technology.
"We all make small purchases, like toothbrushes," said Cope. "These purchases add up. Our fundamental belief is that small purchases can make a big impact. Many children can't afford simple essentials that positively impact their overall health. Smile Squared creates high-quality products and every single time you buy a Smile Squared product, we give one to a child in need. That's our pledge. Every single time."
Based in St. Louis, Smile Squared is a consumer goods company launched in 2011 by Eric and Geri Cope. The company sells toothbrushes, giving away a toothbrush for every toothbrush purchased.
http://www.smilesquared.com
facebook.com/SmileSquared
Twitter @Smile_Squared
Share on TwitterShare on Facebook