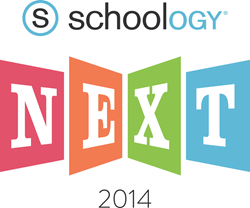 Denver, CO (PRWEB) June 24, 2014
Over 350 educators, administrators and technologists from K-12 schools and universities around the world come to Denver this week for Schoology NEXT 2014 (schoologynext.com), a user conference bringing together Schoology users from 34 states and 12 countries with the mission of unlocking limitless student potential.
Click to Tweet: https://clicktotweet.com/RUbpa
Ed tech visionary and best-selling author, Alan November (novemberlearning.com), White House Champion of Change, Jennie Magiera, and Schoology CEO, Jeremy Friedman, are the featured keynote speakers. Just like Schoology, which brings global, collaborative learning to the forefront, NEXT 2014 sessions are peer-led and hands-on, offering 20 breakout sessions on the topics of leadership, mobile learning, technology integration, 1:1, BYOD and more. NEXT attendees will be the first to hear announcements of new product features focusing on creating and managing content, workflow enhancements, mobile app improvements, increased integrations, and much more user-requested functionality. Founding sponsors for the inaugural Schoology NEXT conference include SunGard K-12 Education, Turnitin, and November Learning.
Schoology will make three major announcements during the conference: Uruguay's recent purchase of Schoology for over 600,000 students in their national 1:1 program, Colorado State University-Global Campus' collaboration with Schoology on a learning management system for its premier global online university, and Schoology closing a $15 million round of funding to fuel company growth and product development.
Note: Schoology will be exhibiting in booth 3026 at ISTE 2014-- the largest educational technology show in the country—held in Atlanta on June 29-July 1.
About Schoology NEXT
NEXT 2014, June 24-25 in Denver, Colo. is a Schoology user conference addressing the rapidly shifting challenges in education with innovative educators, trainers and technology experts from around the world. Classroom teachers, administrators, technology experts, curriculum specialists, media specialists, superintendents and principals attend to share ideas, enthusiasm and teaching resources. More information at SchoologyNEXT.com #NEXT14
About Schoology
New York City-based Schoology—used by five million users in over 50,000 K-12 schools and universities around the world—combines dynamic learning management, an easy-to-use collaborative interface and next-generation API integration into one innovative solution. Schoology transforms learning into a media-rich interactive experience where students, teachers, parents and administrators work together to raise student achievement worldwide. Available as a free stand-alone product and as a fee-based integrated enterprise-class solution deployed in schools or across districts, Schoology is user-centric and scalable for any blended learning environment. More information at schoology.com or @schoology.