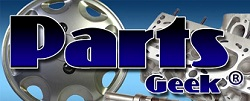 (PRWEB) June 26, 2014
Parts Geek, a leading online auto parts retailer, is pleased to announce the addition of E3 Spark Plugs to their online inventory. Parts Geek is also offering over 3,000 E3 Spark Plugs, and they are available for vehicle makes such as Acura, GMC, Toyota, Nissan, Volvo, and much more.
A spark plug is vital to a vehicle's efficiency and performance as its purpose is to both ignite and deliver an electronic current to the vehicle's engine. Without a properly functioning spark plug, vehicle owners will be limited in the way their vehicle functions. In fact, three things that could indicate a new spark plug may be needed are that the vehicle is unable to start, there is a higher amount of fuel consumption (due to incomplete combustion), and the vehicle is unable to accelerate the way it had previously.
The professionals at E3 Spark Plugs are dedicated to advancing spark plug technology. The company has years of experience manufacturing spark plugs, and they have put much emphasis on researching ways in which their products are able to continue to meet the needs of their customers and enhance their vehicles performance. Those who are interested in learning more about E3 Spark Plugs can also do so by visiting the company's official website at http://www.e3sparkplugs.com/.
Vehicle owners who opt for E3 Spark Plugs from Parts Geek can expect their vehicle to have better fuel consumption, more power upon acceleration, as well as their engine to last longer then what it previously would have. People interested in viewing Parts Geek's E3 Spark Plugs can simply type "E3 Spark Plugs" into the website's "Search" option, as well as visit the Spark Plugs Parts page of their website and click the "E3 Spark Plugs" brand. To hear more about Parts Geek, as well as view the other spark plug brands that they have available, please visit their website today.
About the Company:
At Parts Geek, they offer the best and most competitive prices on imported and domestic car parts. They also offer automobile accessories, and many of their items ship quickly, all from warehouses scattered throughout the US. Customers can pick from thousands—if not millions—of new automotive parts, refurbished/rebuilt parts, and more from reliable and certified manufacturers. To learn more, please visit http://www.partsgeek.com.