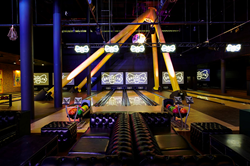 London (PRWEB UK) 24 June 2014
Activity based dating site DoingSomething has long known the best way of getting to know someone new is doing an activity. This year alone they've built an Igloo at the top of the Shard, broken a world record for the world's biggest Ping Pong Date and now have a bowling in their sights.
July 17th sees the opening night of 'The Big Brooklyn Bowl Date' which will become a regular fixture in Brooklyn Bowl's calendar. Whilst bowling has become increasingly fashionable in the last ten years, Brooklyn Bowl is leading the charge as London's hippest new import. Hailing from the Williamsburgh neighbourhood of Brooklyn, New York, it made a name for itself as a music venue, as much as a bowling alley and is aiming to pull off the same trick in London.
Part music venue, part restaurant, part bowling alley, it's the ideal place for an activity based date. As DoingSomething.co.uk Founder says 'Bowling's just one of those things everyone loves, no matter how good they are at it. It really takes the awkwardness out of dating, you just can't keep up that cool facade when you're chucking 14 pounds of resin at some pins. And Brooklyn Bowl is the hip new place. You don't bowl there. You roll!'
Ray Duhaney, General Manager of Brooklyn Bowl says 'We're delighted to be working with a dating site as innovative and fun as DoingSomething. Bowling is the perfect activity to do as a two. It's a retro date idea re-imagined in a modern context… and no-one rolls like Brooklyn rolls'.
Rollers get a beer on arrival, courtesy of Greenwich Meantime Craft Brewery. Then once loosened up, there's a winner stays-on tournament to see who's King or Queen of Brooklyn Bowl. The prizes include four tickets to see Fun Lovin Criminals perform at The O2.
Those that get knocked out early on needn't worry though. Just behind the bowling lanes will be where the party's at. And as the night progresses, Brooklyn Bowl's resident DJ will shepherd the transition to from bowling tournament to club night.
With free rolling all night long, craft beer on arrival and six hundred of London's hottest, and most athletic singles, what's not to like? You'd be a 'Turkey' to miss it!
Tickets are a snip at £14 for singles and £24 for doubles. Nick Telson , co-founder at DesignMyNight says, 'We're delighted to be official ticket partner, DoingSomething events are always fun and exciting and sell out due to their popularity on our site.'
Admission includes a one months membership to DoingSomething.co.uk (worth £29) so single rollers can keep in touch after the event.
http://www.doingsomething.co.uk/brooklynbowl
BOOKING INFORMATION
Official ticket partners are http://www.designmynight.com
Tickets £14 singles and £24 doubles
LINK HERE: http://www.designmynight.com/london/whats-on/something-a-little-different-events/the-big-brooklyn-bowl-date