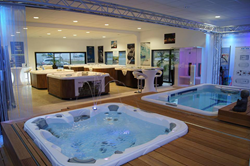 Carlsbad, CA (PRWEB) June 24, 2014
Dimension One Spas recently welcomed over fifteen new retailers as the hot tub manufacturer continues to expand their reach to more cities across the U.S.
New Dimension One dealership locations have opened in New York, Pennsylvania, Delaware, Illinois, Virginia, California, Oklahoma, Utah, Vermont, New Jersey, Oregon, Kansas, Colorado and Arizona.
Maintaining excellent dealer partnerships has always been important to D1 and supporting the dealer's business growth remains the priority.
"Our success is dependent on our partners' success. With new spa retailers joining us as well as the great year our dealer base is experiencing, it is an exciting time for the D1 family," said John Lear, VP of Sales, North America. "New initiatives and consumer direct programs are helping our dealers succeed. There's never been a better time to be a D1 dealer."
To find an authorized D1 spa dealer closest to you, click here.
About Dimension One Spas
Dimension One Spas (D1), founded in 1977, is the industry leader in premium spas and swim spas and the home of the world's first curvilinear hot tub. Rooted in design, performance and style, D1 has crafted extraordinary user experiences with over 30 patents that incorporate sight, sound, mood and healing hydrotherapy. D1's four collections include the Bay Collection, Reflections Collection, @home Collection and the AquaFIT line. To learn more visit http://www.d1spas.com.