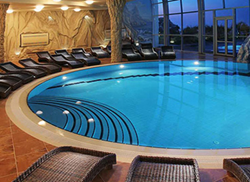 We are happy to be partnered with Hilton to bring superior quality and unsurpassed water savings to their hotels worldwide. - Ken Rodi, CEO Neptune Benson
Coventry, RI (PRWEB) July 09, 2014
Neptune Benson, a leading manufacturer of commercial pool filtration systems, UV disinfection systems, and aquatics components is proud to announce they are now a supplier of aquatic products for Hilton Worldwide.
For hotel or resorts, water savings are a huge consideration. The Defender® Regenerative Media Filter eliminates over 90% of the backwash water associated with sand filter operation. The dramatic reduction of backwash waste directly translates to savings in chemicals and fuels for reheating associated with make-up water.
"We are happy to be partnered with Hilton to bring superior water quality and unsurpassed water savings to their hotels worldwide" says Ken Rodi, CEO Neptune Benson.
The award winning Defender® Regenerative media filter removes particles down to 1 micron or less. When teamed up with the Neptune Benson ETS-Ultraviolet Disinfection system, water quality reaches a whole new level of cleanliness. In addition, the ETS-UV also reduces chloramines which often produce that unpleasant chlorine smell in the air of many facilities.
In addition to water savings, hotel guests can experience:

Safer Water
Superior air quality – eliminate that chlorine smell
No more "red eye" and skin irritations from excessive chlorine
Eliminate the downtime needed to close the pool for shock treatments
Crystal clear water
Contact Neptune Benson at aquatopia(at)neptunebenson(dot)com for a brochure that will explain how.
About Neptune Benson
Since 1956 Neptune Benson has been synonymous with water filtration serving the aquatics, industrial and municipal markets. Featuring award-winning brands such as the Defender® regenerative media filter and the ETS-UV ultraviolet disinfection system; Neptune Benson also offers Legacy® sand filters, the AEGIS® anti-entrapment shield, moveable bulkheads, Dominion™ butterfly valves, Guardian™ strainers, greendrive™VFD systems, as well as all Lawson Aquatics accessory products. Purity Unrivaled™
See our website for more information: http://www.neptunebenson.com, http://www.ets-uv.com.