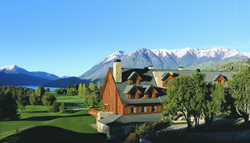 Although we are well-known for our superb locations, we are most often praised for our incredible staff
Bariloche, Argentina (PRWEB) June 24, 2014
Following its soft opening on the 1st of May 2014, the Arelauquen Lodge will be officially celebrating its Grand Opening July 15, 2014. This newest addition to Argentina's leading boutique hotelier P Hotels has recently gone through a multi-million dollar renovation, transforming it into a 5-star hotel boasting a world-class restaurant. This all-suite property is nestled on the grounds of the prestigious Arelauquen Golf & Country Club just outside the lake resort town of San Carlos de Bariloche, renowned for its superb skiing and breathtaking beauty.
Each of the 28 rooms is designed with exquisite taste, with suites ranging from 270 square feet to 505 square feet. All 28 feature fully equipped kitchenettes, large flat-screen televisions, complimentary Wi-Fi, beautiful oversized bathrooms, in-room safes, and the finest estate-quality furnishings. Guests can have their kitchenettes fully provisioned with their favorite groceries and beverages prior to their arrival and will enjoy their stay in Bariloche's only resort with air conditioning.
The Lodge's sleek design and furnishings blend in harmoniously with the alpine flair, offering a welcoming coziness with a modern touch. Application of high ceilings and large windows that frame the alpine splendor creates a relaxing but luxurious resort ambiance. The natural beauty of the area can be enjoyed in nearly all of the public spaces, and especially from the guest rooms. The indoor and outdoor areas are effortlessly intertwined and designed for comfort, with grand views of the surrounding Lake Gutierrez and nearby snow-capped mountains. The tranquil indoor/outdoor pool allows for breathtaking mountains views and the enticing sauna is the perfect place to warm-up after a day of skiing.
Cerro Catedral Ski Resort, South America's largest and most famous, is located a mere 15 minutes away from the Arelauquen Lodge. Offering skiers and snowboarders 39 modern lifts, 53 runs, and an abundance of skiable terrain, this ski resort makes an exciting alternative to the Northern Hemisphere's summer months! If North Americans and Europeans are searching to escape their winter, this region of Patagonia also offers superb golf, polo, fishing, hiking, hunting, and a plethora of water sports.
Prior to, during, or after a full day of exploration and recreation, Arelauquen guests are treated to the culinary delights at its five-star Epic restaurant. Here, Chef Martin Erkekdjian blends international cuisine with regional inspiration in an unforgettable mountain setting. His menu presents many unique creations that are notable for top quality, carefully selected local ingredients. Chef Erkekdjian is an Argentinean who has been tutored by world-renowned chefs including Alex Atala, Pierre Gagnaire, Marcus Samuelson, Thomas Keller, and Fernando Trocca.
Before becoming a hotel developer and operator, Grupo EMR CEO Edward Rubio traveled the world as a financial services executive. "I did a lot of searching to find the right places, properties, and people," said Rubio. "Although we are well known for our superb locations, we are most-often praised for our incredible staff."
P Hotels' other properties include Palermo Place and Palermo Tower located in Buenos Aires' trendiest district of Palermo. In addition to these splendid locations, the Auberge Du Vin hotel will be opening in the heart of Argentina's internationally acclaimed wine country of Mendoza in August of 2014.
Arelauquen Lodge reservations can be booked directly on our website http://www.arelauquenlodge.com, or through the GDS system for travel agents