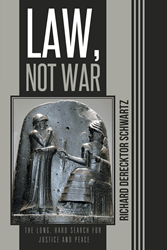 I am hoping that people will see the need for a world wide rule of law.
Hamden, CT (PRWEB) June 25, 2014
Law is present in every aspect of society whether it's a social construct or a legal one.
In his new book "Law, Not War: The Long, Hard Search for Justice and Peace", author Richard Schwartz shares the history of law and how legal systems formed in different cultures.
"I am hoping that people will see the need for a world wide rule of law," Schwartz said.
Law is an institution that has evolved through its 6,000-year history. Tracing this history, Schwartz poses the following question: Can international law become an effective instrument of social control among nations in the emerging world?
To develop effective international law will require minimal standards of inclusiveness and mutual responsibility. It must meet the fundamental requirement of an effective legal system: a widespread belief in its justice and fairness. How has that kind of respect for the law come about in earlier societies? And how can it be fostered in the evolution of a world legal order?
"Law, Not War" traces this history in complex societies from Ancient Middle East to the contemporary world.
"Law, Not War"
By: Richard Schwartz
ISBN: 978-1-4917-1275
Available at Amazon, Barnes and Noble Booksellers and iUniverse online bookstores
About the Author
Richard Schwartz is currently a senior research scholar at the Yale Law School and Ernest I. Schwartz is a founder of the Law & Society Association and the first editor of Law & Society Review. He currently resides in Hamden, Conn.
# # #
EDITORS: For review copies or interview requests, contact:
Jonathan McAfee
317-602-7137 | jmcafee(at)bohlsengroup(dot)com
(When requesting review copies, please provide mailing address.)