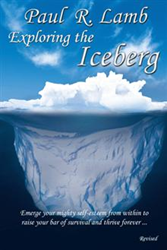 "When I came out of my coma at mid-life with the functions of a six-year-old, I had no self-esteem, no confidence, no worth or value."
Ancaster, Ontario (PRWEB) June 24, 2014
Survivors of emotional, cognitive or physical trauma face a daunting dilemma when beginning rehabilitation. Fight or flight. Paul Lamb chose to fight. He hit the iceberg but it didn't sink him.
His book, Exploring the Iceberg, is a metaphor for life and provides motivating strategies found deep within, like exploring the iceberg, to live, survive and thrive.
It is an inspiring story of his transformation following his traumatic car crash that put him in a coma for several weeks, finding the strength to overcome the challenges of his incredible injury. In the course of his journey, he discovered that knowing yourself deeply is the bedrock of self-esteem.
"When I came out of my coma at mid-life with the functions of a six-year-old, I had no self-esteem, no confidence, no worth or value," says Paul R. Lamb.
Lamb rebuilt his life after losing almost everything, including his memory and his physical abilities. Exploring the Iceberg instills in readers the ability to draw strength from past trauma to persevere, achieve and fulfill unthinkable dreams at any stage of life.
"You may live feeling you have little value," Lamb says. "In reality, you have great value, as everyone does. You just may not know it, yet. Fortunately, emerging your self-esteem and your personal growth can start at any age."
Exploring the Iceberg
By Paul R. Lamb
264 pages
Paperback 6x9, retail price: $17.99
E-book, retail price: $3.99
ISBN: 9781452563145
Available at http://www.amazon.com and http://www.barnesandnoble.com. You can also order at Indigo, Chapters, Coles, your local bookseller or preferred on-line retailer.
About the author
Paul R. Lamb has always strived to discover who he truly is. Life long learning is at the core of his values. Lamb taught, facilitated and consulted with staff and volunteers associated with the Ontario Ministry of Correctional Services for more than 20 years. He presented to police agencies conferencing from around the world and facilitated at an international conference with The Association of Psychological Type. He consulted at a university level in group theory. He also assisted pathologists with autopsies in both medical and forensic pathology and was a town planner. Paul is certified as a consultant and administrator in The Myers Briggs Type Indicator. Lamb is a proud husband and father.