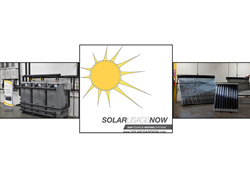 (PRWEB) June 24, 2014
For over 20 years, GLREA has served people throughout Michigan and the Great Lakes region as a non-profit 501(c)3 organization. GLREA's mission is to be the leading Renewable Energy organization for the Great Lakes region in advocating and promoting policies, technologies, and practices that are environmentally and economically sustainable. GLREA partners with key stakeholders to connect businesses, government, and communities to increase use of renewable energy technologies.
The Michigan Energy Fair is a stellar event held every year to make this all happen. The goal of this event is to allow those in the sustainable energy industry an opportunity to network with one another while also educating the public. The fair combines fun, with local food, fun activities and workshops, engaging speakers, and music thrown in for good measure.
Solar Usage Now (SUN) will have the SUN Equinox heating system on display at the fair. The system is a combination of a very efficient solar thermal collector, atmospheric storage tank, highly efficient natural gas-fired tankless water heater, and unit heater. The system takes the most efficient technologies on the market and integrates them into an energy efficient package. The system is very flexible and can operate under many temperature setting combinations depending on how the system is applied.
Come see Robert Blake at booth 43. June 27th and 28th.