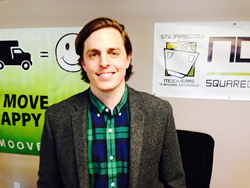 It's great to see how much everyone enjoys the events and to know that Square Cow Movers is helping to make it possible. -Wade Lombard
Austin, Texas (PRWEB) June 23, 2014
Square Cow Movers has made community involvement a part of their business model since the company was founded. One of their latest efforts is sponsoring the Steiner Ranch Movies in the Park 2014 series. The family friendly events are a chance for people in the neighborhood and surrounding areas to gather together for a night of free fun and entertainment.
Last year Square Cow Movers became a sponsor of the series and the team was excited to get the opportunity to work with the Steiner Ranch community again. "My family and I make it out to every movie," said Square Cow Movers owner Wade Lombard. "It's great to see how much everyone enjoys the events and to know that Square Cow Movers is helping to make it possible."
The series got underway on May 31st with How to Train Your Dragon. The next movie will be shown on June 28th at Bella Mar Park from 8:30-10:30 PM. It will be the People's Choice film, which viewers were able to vote on at http://www.SteinerRanchMoviesinthePark.com. The film selection for the People's Choice event include:

Pirates of the Caribbean
Bedtime Stories
Hunger Games
The Lorax
Blind Side
Kung Fu Panda
During the event attendees can enjoy face painting, free goodies and a chance to win an iPad at each movie. The Lady Vipers Lacrosse team will also be selling popular concessions before and during the movie. The free event is made possible by Square Cow Movers and the other 2014 sponsors: Mortgage Mentor, School in the Hills, James Waters Orthodontist, TLC Home Inspections, Brandy Finnessey of Better Homes and Gardens Real Estate and Reel Big Screens.
To learn more about Square Cow Movers, the services they offer and their community involvement, please visit: http://www.squarecowmovers.com.
About Square Cow Movers
Square Cow Movers isn't your typical moving company. Using the Art of Mooving - a no bull, customer-first code of ethics - Square Cow Movers has built a business on providing a personalized moving experience that takes the stress out of a move. With locations in Austin and Houston, Square Cow Movers is the go-to resource for moving in Central Texas.