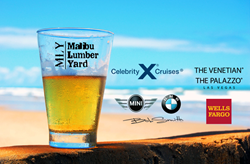 Malibu Grand Tasting
Malibu, Ca (PRWEB) June 25, 2014
The Malibu Lumber Yard is the ideal setting for this spectacular celebration of microbrews, wines, and spirits. The Malibu Lumber Yard is home to elegant shops and restaurants, and provides an atmosphere of exotic opulence. Patrons will have the opportunity to lounge in the lush atmosphere of this exclusive enclave, as they sample the hottest spirits.
Malibu offers world-class dinning and shopping with some innovative concepts. This event celebrates our love for this California beach city. The Malibu Grand Tasting on July 19, at the Malibu Lumberyard brings out celebrities from all over.
The Malibu Lumber Yard will provide the optimum atmosphere for patrons to enjoy themselves as they sample an exquisite array of locally crafted brews, wines, and most decadent spirits that Southern California has to offer.
Patrons will have the opportunity to lounge in the lush atmosphere of this exclusive enclave, as they sample the hottest "haute" craft beer and spirits.
Event Specifics:
When: July 19, 2014; 1 p.m. to 5 p.m.
Where: Malibu Lumber yard
What: A Festival featuring the best beer, wine and spirits in California.
Why: To indulge all your senses and raise funds for Rock Against Trafficking
About Malibu Lumber Yard
Situated in the heart of Malibu about one hour from downtown Los Angeles, the Malibu Lumber Yard is a premier outdoor center with an upscale mix of retailers and restaurants surrounding unique outdoor seating areas and lush landscaping. Located along the famed Pacific Coast Highway, its chic tenant mix and contemporary design draws customers from Thousand Oaks, Woodland Hills, Calabasas, Hidden Hills, Topanga and Agoura Hills. Owned and managed by Glimcher Realty Trust of Columbus, Ohio.
About Celebrity Cruises:
Celebrity Cruises' iconic "X" is the mark of modern luxury, with its cool, contemporary design and warm spaces; dining experiences where the design of the venues is as important as the cuisine; and the amazing service that only Celebrity can provide, all created to provide an unmatchable experience for vacationers' precious time. Celebrity Cruises' 11 ships offer modern luxury vacations visiting all seven continents. Celebrity also presents immersive cruise tour experiences in Alaska, Australia/New Zealand, Canada, Europe and South America. Celebrity is one of five cruise brands operated by global cruise vacation company Royal Caribbean Cruises Ltd. For more information, dial 1-800-437-3111, visit Celebrity Cruises, or call your travel agent.
About Wells Fargo:
Wells Fargo & Company (NYSE: WFC) is a nationwide, diversified, community-based financial services company with $1.5 trillion in assets. Founded in 1852 and headquartered in San Francisco, Wells Fargo provides banking, insurance, investments, mortgage, and consumer and commercial finance through more than 9,000 stores, 12,000 ATMs, and the Internet (wellsfargo.com ), and has offices in more than 35 countries to support the bank's customers who conduct business in the global economy. With more than 270,000 team members, Wells Fargo serves one in three households in the United States. Wells Fargo & Company was ranked No. 25 on Fortune's 2013 rankings of America's largest corporations. Wells Fargo's vision is to satisfy all our customers' financial needs and help them succeed financially. Wells Fargo perspectives are also available at blogs.wellsfargo.com.