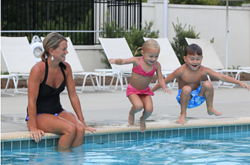 Award Winning Master-Planned Community in Wilmington North Carolina
Wilmington, North Carolina (PRWEB) June 24, 2014
As the summer starts to heat up, residents at Brunswick Forest will soon have another new way to cool down. A new swimming pool is the latest amenity to open this summer at the award winning master-planned community in Wilmington, adding more swimming space, lots of shaded seating, not to mention a brand new sparking pool. The latest addition to the Brunswick Forest amenities will be accessible to all residentand will have plenty of car and bike parking (bikes are the more popular method of transportation in this bike friendly neighborhood).
While the swimming pool is a welcome addition to the Brunswick Forest amenities, the neighborhood is already filled with activities including an 18,000 square foot Fitness and Wellness Center with two swimming pools, 100 miles of biking and nature trials and an incredibly scenic 18-hole championship golf course called Cape Fear National.
Because of all that the chic city has to offer, new homes in Wilmington, North Carolina have something for everyone both along the barrier islands and in the community. Wilmington has an abundance of nature and wildlife, outstanding beaches and waterways, a moderate climate with a change of seasons and a reasonable cost of living. Buyers who desire to live near the ocean and beautiful beaches, will find wherever they settle in Wilmington, the water is not far away and Brunswick Forest is set just minutes from the heart of it all.
Take a peek at Brunswick Forest homes.
That's just the beginning. Part of what makes Wilmington one of the best places to live in coastal North Carolina is that it's complete with a seaport, an international airport and a University of North Carolina Campus. The city has held onto its historic atmosphere. That's why the area is such a big draw to Hollywood. Several films and TV shows are filmed in the area every year. The city is nicknamed 'Hollywood East'. Wilmington's unique location also gives it a very mild subtropical climate with summer temperatures rarely getting above 88 degrees and winter temperatures on average in the 50's and 60's making it a wonderful place to spend time outdoors pretty much year round.
In addition living in Wilmington, North Carolina means you are a short drive from several major cities (Charlotte, NC, Raleigh-Durham, NC and Myrtle Beach, SC) and other local hot spots along the east coast. The Cape Fear Coast is a world of history, sports, island beaches and incredible natural beauty-just waiting to be discovered. Along the Cape Fear Coast you'll find hours of enjoyment and adventure, whether you're a shopper, a history buff, a naturalist, a beachcomber or all of the above. The historic port city of Wilmington affords all the unique opportunity to enjoy an exciting area rich in dining, culture and the arts, while being only minutes away from white sandy beaches.
Another reason the Wilmington area is among the best places to live in coastal North Carolina: business. Wilmington is home to GE Aviation, Corning and Verizon Wireless to name a few. Along with those titans of business, Wilmington prides itself, not only being one of the best places to live in coastal North Carolina, but on providing opportunities to small businesses and entrepreneurs that help attract younger workers looking to begin new careers.
It's easy to see why this area continues to win so many accolades winds up on so many "Best Of" lists. Every day is an opportunity to experience something new. From outdoor fun at the beach to launching a start-up business with some of the best minds in corporate America, coastal North Carolina leverages all of its best assets to offer something not found in many regions of the country.
Buyers looking for new homes in Wilmington North Carolina, would be wise to check out Brunswick Forest and its amenities. Contact Brunswick Forest direct at 888.371.2434 to schedule a tour of the most talked about master-planned community in Wilmington.
About Real Estate Scorecard:
Real Estate Scorecard writes unbiased real estate reviews providing in-depth information about popular gated communities in Florida, Georgia, North Carolina, South Carolina and Tennessee, all in an effort to help people discover where to retire in the Southeast.
Website: http://realestatescorecard.com