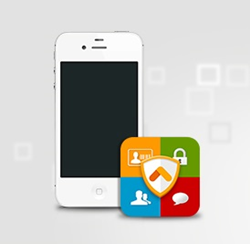 San Jose, California (PRWEB) June 24, 2014
nProtect, Inc., a global leader in Internet security announces the recent relase of its new Mobile Device Management(MDM) solution, 'MoDeM'. nProtect MoDeM can be applied to mobile devices using both Android and iOS operating systems.
nProtect's new solution complies to the recent policies of BYOD (Bring Your Own Device) policy by providing an integrated security management system and control for privately-owned mobile devices.
Some of the key features of nProtect MoDeM include, deployment and management of policies on department and team level, stolen and lost devices can be remotely locked and reset, functions on devices can be limited according to policy, push message feature, location tracking and more. All features provide safer mobile device usage environment within the enterprise.
In terms of management, nProtect MoDeM provides a convenient interlock and registration both for the organization and personnel, a simple registration of devices, and a web standard compliant management console. The focus was set on simple and easy user experience rather than just device control and management.
Meanwhile, nProtect pointed out that the MDM solutions market is still early stages with actual demand being lower than market expectations. However, the market is continually growing and the forecast is looking bright for MDM solutions.
"We are looking at a long term strategy for this market and will continually research and invest in technology and user experience. MDM solutions are a high interest area for both financial institutions and government organizations, in which nProtect currently has a vast number of customers", according to nProtect Product Management Team.
About nProtect, Inc.
Founded in January 2000, nProtect, also known as INCA Internet, is headquartered in San Jose, California and provides online and mobile banking/payment security to financial institutions. Over 100 million endpoint users from more than 1,000 organizations rely on nProtect's online security solutions to secure their computer and mobile devices against malware, phishing, and number of other security threats while meeting regulatory compliance requirements such as FFIEC Guidance. Global financial institutions such as Bank of America, Deutsche Bank, ING, and HSBC trust and use nProtect security solution.
nProtect was awarded one of the Fastest Growing Companies by Deloitte.
For more information, contact nProtect Inc.
Tel: 408-477-1742
Email: sales(at)nProtect(dot)com
http://www.nProtect.com