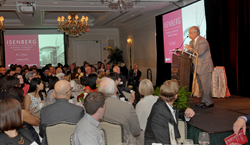 "Connecting with Isenberg's hard-working graduates reminded me why the school is so special and that I would always be part of that community of achievers."
Amherst, MA (PRWEB) June 25, 2014
Isenberg School of Management at the University of Massachusetts Amherst honored alumni David Fubini '76 of McKinsey & Company and Christina Calvanesco '03 of Eyeview Digital. The high-energy event held at the Colonnade Hotel in Boston on June 18 attracted over 300 alumni, friends and family of the highly-ranked business school.
Fubini, the evening's principal honoree and former long-time head of McKinsey & Company's Boston office, was introduced by the city's ex-mayor, Thomas Mennino, who praised the Isenberg graduate for his unselfish strategic partnership with the city, the United Way, and other causes. Noting the impact on Boston of Fubini and other Isenberg alumni, Mennino urged his Isenberg audience: "Tell the world your story."
Other presenters include UMass Amherst chancellor Kumble Subbaswamy, Dean Mark A. Fuller, and the event's master of ceremonies Beth Gamel '78 MS. Previous Isenberg Business Leadership Award honorees include Red Sox Executive Vice President and General Manager Ben Cherington '97.
In his own remarks, Dean Fuller challenged his predominantly alumni audience to get to know "the top quality students seated beside you." The school's dramatic rise in national rankings are important, he said, because they reflect Isenberg's growing reputation. "But what really drives me, are the job offers that that reputation brings." In 2014 Bloomberg BusinessWeek ranked Isenberg's Undergraduate program #36 overall and #14 among public institutions, making it the fastest rising undergraduate program in the U.S. over the last five years.
"I've been to quite a few Boston events on this scale and bigger. This was as good as it gets from start to finish," remarked Jenny Dell '08, the former NESN Red Sox reporter who will join CBS to cover the NFL next fall. "Connecting with Isenberg's hard-working graduates reminded me why the school is so special and that I would always be part of that community of achievers."
About Isenberg School of Management:
Founded in 1947, the Isenberg School of Management on the University of Massachusetts flagship Amherst campus has 42,000 alumni in 72 countries. Isenberg offers its AACSB-accredited courses to 4,500 students on campus, online, and in blended formats. The School's 3,200 undergraduates major in seven business disciplines, including industry specialties such as hospitality & tourism management and sport management. Over 1,300 students are enrolled in the Isenberg MBA and they can focus their studies in Health Care Administration, Entrepreneurship, Finance and Marketing.