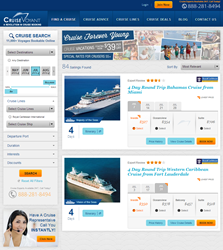 "With our team of cruise experts and web designers, we continuously conduct extensive research to better our site and cruise booking experience for our consumers," said Brandon Simpson, CTO of Cruise Voyant.
Fort Lauderdale, FL (PRWEB) June 24, 2014
Cruise Voyant, an online cruise booking website, will be featuring new itineraries for Panama Canal cruises. The Panama Canal has been undergoing an expansion that will cost $5.25 billion and is slated for completion between 2015-2017. This expansion will allow for bigger cruise ships to pass through, thus giving more itinerary opportunities for numerous cruise lines.
To date, the biggest cruise ships able to cross the Panama Canal were the Costa Delizioso and Costa Luminosa at 92,700 gross tonnage. With the completion of the Panama Canal expansion, ships of larger size such as the Celebrity Solstice (121,878 gross tonnage) and perhaps Cunard's Queen Mary 2 (148,528 gross tonnage) will be able to cross. Whether or not the ship can pass is dependent on its height and if it can clear the Bridge of the Americas. The ships that will be able to cross the Panama Canal safely and efficiently will have new itineraries added to Cruise Voyant.
"With our team of cruise experts and web designers, we continuously conduct extensive research to better our site and cruise booking experience for our consumers," said Brandon Simpson, CTO of Cruise Voyant. "Cruise Voyant's booking engine and technology was built to reflect the most current itineraries for various cruise lines and their ships, and we constantly update our functionalities to ensure that consumers can book their cruise smoothly with every itinerary and destination available."
The cruise season for the Panama Canal runs from October through April. Beginning on the Pacific side or the Atlantic side, Panama Canal cruises are offered with cruise lines such as Holland America, Crystal, Seabourn, Cunard, Regent Seven Seas and Princess. Trans-canal crossings and partial crossings start around 11 days and last up to a month. Popular stops on Panama Canal cruises include the Colon Panama Cruise port and San Blas Islands. However, the canal wasn't always utilized for cruise vacations. The Panama Canal was first created in 1914 and used primarily for global trade. 7,000 ships a year were traveling through the canal by 1939, and as of now, over 13, 000 a year go through it. With the conclusion of the Expansion Project, the canal's capacity will be doubled, allowing even more ship traffic.
"The exciting part of this expansion is that there will be an increase of itineraries and ships to permit even more people to go through the Panama Canal," said Michael Sandweiss, Product Manager for Cruise Voyant. "People will now have a chance to sail on their favorite large ship to the canal and not be limited to select cruise lines."
The Panama Canal expansion will involve the construction of two new sets of locks on both the Pacific and Atlantic sides of the canal in order to allow entry of larger ships. Both locks will possess three chambers with eight rolling gates for each lock and nine water-saving basins. Additionally, the Culebra Cut will be deepened while the navigational channels in Gatun Lake will be both widened and deepened, improving the Canal's draft dependability and water supply. Dredging both canal entrances and channels in the Culebra Cut and Gatun Lake will improve Panama's navigation channels. Since March 31st of this year, the total progress of the Panama Canal Expansion Project was at 74 percent.
To learn more about cruise news and updated itineraries, visit http://www.cruisevoyant.com/ or visit our blog.
About Cruise Voyant
Cruise Voyant is a Fort Lauderdale-based cruise agency that is revolutionizing the cruise booking process. Cruise Voyant solves many of today's most difficult booking issues by allowing visitors to view a historic look at how pricing has changed on a particular ship and sail date. Cruise Voyant also offers interactive cruise itinerary maps, and it provides tens of thousands of photos of ships and destinations worldwide. Cruise Voyant helps consumers easily find their dream vacation by empowering them with online advice and insights that will help them easily book and manage their vacation plans.