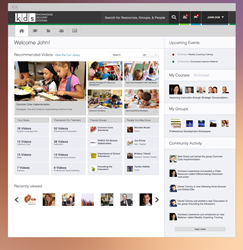 'Up until now the national conversation has been focused on teacher accountability. Our goal is to put the focus on where it actually belongs—on the learning and growth of our teachers.' —Alvin Crawford, CEO of KDS
New York, NY (PRWEB) June 29, 2014
Today, Knowledge Delivery Systems (KDS), the leader in strategic professional development for K-12, will debut the Professional Learning Platform (PLP) at the International Society for Technology in Education (ISTE) Conference in Atlanta, Georgia.
PLP is the future of professional learning—a centralized and unified solution for teacher professional development that seamlessly integrates personalization, collaboration, and content to allow educators to connect, inspires their teaching, and transform their practice.
The innovative, cloud-based platform provides access to curated content, social collaboration tools for teachers, and continuous professional learning that empowers educators to take ownership of their learning. Whether accessing on-demand resources, interacting with other educators, or leveraging KDS' expert-led online PD courses, PLP combines the best-of-breed of deep learning and informal (collaborative) learning that is proven to improve practice.
PLP supports active, collaborative, and collegial learning for teachers that actually delivers on the outcomes that the accountability movement is pushing for—a place for teachers to encourage one another, access coaching and mentoring, and a way to leverage the expertise of peers.
The collegial learning that PLP makes available at scale is critical in helping districts tackle their biggest challenges—Common Core implementation, cultural competency, personalized learning, and tackling the needs of ELLs and diverse learners. Research demonstrates an exceptionally strong relationship between collegial learning and changes in teacher practice and, most importantly, increases in student learning.
KDS already has plans to roll out PLP in school districts nationwide including the School District of Philadelphia and districts in the state of New Mexico. All future KDS strategic PD solutions will leverage this platform.
PLP provides:

A personalized experience, based on goals, interests, and ongoing practice that adapts over time
Learning that melds district, school and individual goals
A growing library of over 600 curated videos and comprehensive PD resources, covering effective teaching practices and subject matter
Integrated access to third party content providers and district-sourced content
Sharable, user-generated content that taps teacher knowledge
Groups and virtual communities of practice to connect, share, communicate, and collaborate with other educators, using synchronous tools
Web-based meetings through HD video conferencing, screen sharing, and instant messaging
225+ compliance courses for a rich and engaging online learning experience
Online and onsite coaching tools that include scheduling and tracking and that support effective 1:1 coaching and communication
Reporting and analytics, including key performance indicators with drill-down capabilities to demonstrate compliance, history towards completion, content usage, and overall PD performance
"Up until now the national conversation has been focused on teacher accountability. Our goal is to put the focus on where it actually belongs—on the learning and growth of our teachers," said Alvin Crawford, CEO of KDS. "We've made it our mission to connect and empower educators, transform classroom practice, and help increase student achievement. The ultimate goal, of course, is to equip our students to become career-ready in this economy."
Earlier this year, KDS raised $9M in funding from the growth equity investment firm Edison Ventures and other existing investors. Additionally, the company inked partnerships with the National Education Association (NEA), a collaboration with the University of Southern California's Rossier School of Education and launched 25 new Common Core courses.
KDS will debut PLP at ISTE on June 29-July 1 in Atlanta, GA in the Georgia World Congress Center, booth #741. KDS will also host four PLP learning sessions and a reception in the Exhibit Hall's Meeting Room 19 on Sunday, June 29 and Monday, June 30.
About Knowledge Delivery Systems
Knowledge Delivery Systems (KDS) is the leading provider of research-based, blended-model strategic professional development solutions for districts, schools, and teachers. KDS' mission is to help school districts and states transform professional development to dramatically improve teacher effectiveness and raise student achievement. KDS solutions systematically build district-wide capacity to address their most important challenges—closing the achievement gap, Common Core instruction and assessments, cultural competency, diverse learners and differentiation, coaching and instructional leadership, and 1-to-1 classrooms. KDS online courses are developed by the nation's leading education experts and researchers and are delivered on the KDS Professional Learning Platform (PLP). For more information, please visit: http://www.kdsi.org.