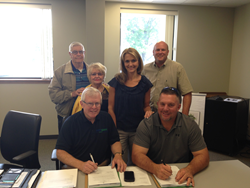 Shallotte, N.C. (PRWEB) June 24, 2014
U.S. Army veteran and former police officer Travis Snead is the newest franchisee to come aboard the Spring-Green Lawn Care family and serves New Hanover and Brunswick Counties in North Carolina. Snead, already in the lawn care business, decided that joining with the well-known franchise network would only help expand and enrich his existing business.
For Snead, it's all about family. That's why the 44-year-old added the Spring-Green Lawn Care business and stepped it up by bringing his family aboard. The business includes his stepfather and business partner, John Thurman. Snead's mother, Barbara Price McFadden, handles marketing and his wife, Carmen, is the office manager.
"I trust family more than anyone else," Snead said. "We were looking for an established business with good core values and Spring-Green fits that profile."
Spring-Green delivers traditional and organic lawn and tree care services nationwide. Its service is centered on the beautification of neighborhoods and communities. Spring-Green serves both residential and commercial customers.
In addition to working in the lawn care business, Snead comes from a service-oriented background. After serving in the U.S. Army from 1988 to 1992, he went on to become a police officer—a life-long goal that was reinforced after he was the victim of an armed robbery at a drugstore he worked for in high school.
"You can't get any more threatened than that," Snead said. "That experience confirmed what I needed to do."
Although he wasn't injured in the incident, his life was changed. After leaving the U.S. Army after four years of service, Snead joined the Shallotte police department as a road sergeant until 2007. Today, he is still an auxiliary police officer, which means he is available part-time as a reserve. While his passion for police work is still strong, Snead decided to supplement his income with an industry in which he had experience. He knew Spring-Green is well-known and has a reputation for customer service.
"Spring-Green has pretty much figured out everything that I need to do," Snead said. "If I follow that, I'll be successful. It'll take hard work, but I'm not afraid of that. Their system will help you be successful quicker because of all the support around you. It's a family-type environment at Spring-Green."
Although Snead is new to the Spring-Green family, he already has plans for growth, including adding more vehicles and equipment. He said he plans to follow the franchise system and build a large client base. Aside from seeing his family on the job, he also hopes to continue their outside activities.
"We're together all the time," he said. "We have cookouts and we go to the movies and just spend time together as a family."
Video: http://www.youtube.com/user/SpringGreenLawnCare
Twitter: https://twitter.com/springgreenlawn
Facebook: http://www.Facebook.com/SpringGreen
Website: http://www.spring-green.com
###
About Spring-Green Lawn Care
Founded in 1977, Plainfield, Illinois-based Spring-Green Lawn Care has been delivering lawn and tree care services nationwide for over 37 years. Its service is centered on the beautification of residential and commercial customers in middle-class and affluent neighborhoods and communities. Spring-Green is an attractive opportunity for entrepreneurs and existing green industry business owners who want to align themselves with a franchise opportunity that has proven economic resilience, healthy profit margins, industry leading business and marketing intelligence, recurring revenue and retirement & family planning through business ownership. Spring-Green currently has 127 franchises operating in 25 states. Spring-Green Lawn Care franchise owners gave the franchise opportunity a 96 percent overall quality rating, according to the Franchise Research Institute September 2013 survey. For more information, visit http://www.springgreenfranchise.com or http://www.spring-greenfranchiseblog.com.