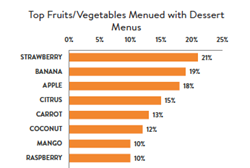 There is perhaps no better way to increase average ticket size than to add a few sweet options to your menu.
Chicago, IL (PRWEB) June 25, 2014
Food Genius has released their most recent Industry Report entitled Icing on the Cake: Desserts Menu Trends and Insights. Desserts are an oft-forgotten but increasingly relevant part of the menu. Icing on the Cake examines the landscape of desserts with insights on chain and independent restaurants.
"Dessert works with any concept, which is why we rank it among the highest areas of opportunity for any operator," states CEO of Food Genius, Justin Massa. "There is perhaps no better way to increase average ticket size than to add a few sweet options; many dessert offerings are refrigerated or shelf-stable, which means adding them to the menu doesn't need to put strain on the kitchen. For those without a dessert program today, we encourage you to take a closer look."
Download the complete research study from Food Genius by visiting the Resources section of their website today, or by emailing Eli Rosenberg at eli(at)getfoodgenius(dot)com.
Key insights from Icing on the Cake Industry Report:

Dessert sections appear on 24% of menus.
Dessert menuing has steadily increased over the past year at a rate of 1% change, quarter over quarter.
50% of independent restaurants offer dessert and more than 75% of chain restaurants menus have dessert offerings.
The Quick Serve Restaurant segment is the most under-represented market in desserts, while Casual Dining restaurants is the most over-represented.
Icing on the Cake: Dessert Menu Trends and Insights highlights data sourced from Q2 2014 Food Genius Reports, an insights platform and data dashboard that tracks menus from across the United States. Ongoing insights from the Food Genius team will be published on the Food Genius blog http://blog.getfoodgenius.com.
Food Genius recently unveiled their new website which now offers a complete resources section filled with downloadable insights at your fingertips. See the new look at http://www.getfoodgenius.com.
About Food Genius
Food Genius is an award-winning technology and services company that delivers big data and insight solutions to the food industry. Food Genius provides actionable insights and foodservice industry analysis derived through proprietary technology-based approach to foodservice data. As a leading menu data provider, Food Genius serves nationally recognized restaurant chains, foodservice manufacturers, grocery retailers, CPG manufacturers and broad-line distributors.
Food Genius is a proud recipient of the Up-and-Comer Chicago Innovations Award and was named to Entrepreneur Magazines list of 100 Brilliant Companies in 2013. Food Genius innovative design and intuitive interface allows for a user-friendly data insights solution that generates granular data and insights, tracks trends, develops concepts and drives growth. To learn more, visit http://www.getfoodgenius.com.