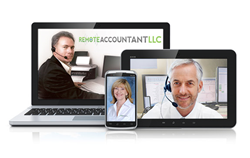 Businesses that file early, before the September 15th deadline, are more likely to receive larger tax refunds.
Long Beach, CA (PRWEB) June 25, 2014
During these turbulent economic times it's difficult to secure a reliable accounting agency, who is absent lawsuits from faulty accounting practices, or egregious tax refund blunders. The national accounting, bookkeeping, and tax firm Remote Accountant, LLC is a national US Big CPA firm subcontractor operating online to provide its clients with premium accounting, bookkeeping, and tax services, at discounted prices. Remote Accountant, LLC offers national USA clients 24/7 customer service. Their services are easy to use, and are fully available online for late night owls, and busy business men and woman during the day. Remote Accountant LLC's remote services allow their clients to remain in their offices, eliminating the need for lengthy meetings at various accounting agencies. Their firm services individual taxpayers, entrepreneurs, franchisees, and specializes in small businesses, franchisees, entrepreneurs, and individuals. In response to recent big name accounting unrest, Remote Accountant, LLC is inviting new clients, at discounted rates, to file their tax extensions early to avoid tax liabilities.
On June 16th, 2014, The Wall Street Journal reported that state and local governments will be required to add retiree-benefit promises to their balance sheets. Several states will appear to be in poor financial standing after the proposed change, due to the concentrated number of retired denizens. Accounting firms, like Remote Accountant, LLC, are dedicated to providing retired individuals with specialized financial advice to keep their finances in order. Remote Accountant, LLC has announced its intent to introduce retiree services in the months to come. To read more about state proposed accounting changes visit online.wsj.com/articles/accounting-changes-proposed-for-state-city-retiree-benefit-plans-1402931878.
On June 17th, 2014 the Wall St. Cheat Sheet announced that the American populace is fickle about its tax allegiances. Taxpayers are in favor of policies that help mitigate their costs at home, and are outraged when new tax levies are imposed upon them and their pockets. Most people rely on H&R Block, Jackson Hewitt, or Liberty Tax Service to file their taxes to relieve the stress of completing their own tax files. When polled Americans preferred tax fairness over tax equality. Individual taxpayers are projected to continue to outsource their accounting needs to more reliable venues where accounting practices are stringently regulated, and policies are frequently reviewed on federal and local levels. To read more from Wall St. Cheat Sheet visit wallstcheatsheet.com/personal-finance/more-americans-choose-tax-fairness-over-the-economy.html/?a=viewall.
On June 10th, 2014 Forbes' Peter J. Reilly reminded readers about prestigious accounting firms raiding the treasury. He names PWC, EY, KPMG, and BDO among the alleged offenders. Reilly claims that "the greatest hazard that most CPAs face is envy." To read more visit forbes.com/sites/peterjreilly/2014/06/10/confidence-games-how-the-most-prestigious-accounting-firms-raided-the-treasury/.
Battling accounting fraud is Remote Accountant LLC's number one priority. They are dedicated to providing their customers with exemplary accounting services, while garnering the greatest tax returns possible for their clients. Businesses that file their tax extensions early, before the September 15th deadline, are more likely to receive larger tax refunds. The experts at Remote Accountant, LLC understand that taxpayers work hard for their money, and strive to provide excellent customer service to each client. Remote Accountant, LLC customer service representatives are available 24 hours to safeguard the financial interests of their clients.
The specialists at Remote Accountant, LLC utilize advanced cutting-edge technology like live video-chat, and direct PC to PC login for automatic updating, ensuring that accounting, bookkeeping, and tax filings are streamlined and unified. Remote Accountant, LLC provides a wide range of services which can be found on their website at http://www.remoteaccountantllc.com, or on their firm introduction video.