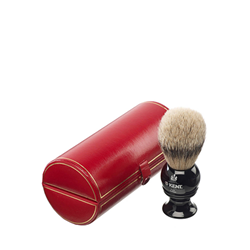 Kent, however, will never stray away from the philosophy it was founded on: world class products – without compromise.
Hallandale Beach, FL (PRWEB) June 25, 2014
Luxury Barber prides itself on choosing the best products that satisfy their customer's every grooming need. Luxury Barber is honored to celebrate the first anniversary of carrying Kent, one of the most prestigious shaving brush brands available. Their site carries five different Kent brushes: Kent BK12, Kent BK8, Kent BLK4, Kent BLK8, and Kent H8. Every brush comes with a high quality red leather case with velvet lining to protect the brush, ensuring that it lasts for years to come. These brushes are a customer favorite because of the excellence of its production as well as its long lasting benefits.
GB Kent & Sons Ltd were manufacturers of shaving brushes since the eighteenth century, making it one of the oldest established companies in Great Britain. Needless to say, Kent brushes hold a place in history. The superiority of their brushes has caused them to be recognized by the granting of Royal Warrants for nine reigns. The Kent family ran the company for over six generations, until the three Kent brothers had passed away by 1932. Since then, Kent joined forces with the Cosby family, where it remains today.
What sets Kent brushes apart from its competition is the dedication to true quality. Other companies who claim to stand the test of time, make their brushes from cheap imports at very high prices. Kent, however, will never stray away from the philosophy it was founded on: world class products – without compromise. The brushes' bristles are sourced from India and China from sustainable forests. They are specially selected for their beauty, grain, and ability to be shaped, drilled and polished. Gentle enough for sensitive skin, Kent brushes are strong and durable, lasting for years after purchase.
The BK12 Kent Brush is a pure silver-tipped badger brush with an ivory barrel that gives you ultimate control. The BK8 Kent brush is also filled with silver-tipped badger hair, but has a slightly narrower handle while delivering the same rich lather. The BLK4 gives you an even, smooth lather of shave cream with its pure silvertip badger bristles. It is a smaller brush, but does not compromise quality. The Kent BLK8 gives you a close shave due to the way the silver tipped brushes are laid out in the brush. The handle provides an extra grip for accuracy and control. Last but not least, Luxury Barber carries the H8 Kent brush which is made with quality grey Best Badger Hair, known for its soft bristles and flexibility
All of these Kent brushes are available for purchase on the Luxury Barber website at http://www.luxurybarber.com.