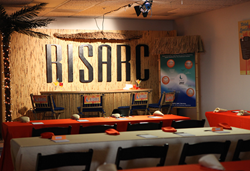 Health coverage is now accessible and affordable for millions of Americans thanks to the Affordable Care Act.
Burbank, CA (PRWEB) June 24, 2014
Richard Stephenson, Founder and CEO of RISARC, a leading national high-technology and revenue recovery consulting firm to the health care industry, announced that and Blue Shield of California successfully hosted their third seminar for senior executives in the health care industry.
RISARC CEO, Richard Stephenson and Blue Shield of California's representative, reviewed the principal elements of the federal Affordable Care Act (ACA).
Stephenson then led an in-depth discussion of both companies participation with Covered California, the state run Health Insurance Exchange, which enrolled over 3 million of the state's residents in its marketplace of private insurance programs and Medi-Cal in the first six months of Exchange operations.
Covered California is California's new health insurance exchange, where individuals, families and small businesses can find affordable health insurance.
Latest changes
For healthcare executives in attendance the seminars detail how the latest changes from Covered California, Hospital Presumptive Eligibility (HPE) rules, and the ACA are impacting the new patient care requirements and revenue cycle protocols for healthcare stakeholders in California.
RISARC collaborated with Blue Shield of California on this seminar to share their in-depth understanding of what will be required to build a sustainable revenue infrastructure and improve payer/provider relations.
Departmental Collaboration
Now more than ever each department within a provider's structure has to have a clearer working understanding of how each conduct their operations, particularly where it applies to dealing with payers and patients alike. They must also understand the intricacies of the health plans under Covered California and the coverage's provided by participating payers such as Blue Shield of California.
In attendance are stakeholders in the Revenue Cycle process including: Directors of the Business Office, Admitting, VP of Revenue Cycle, Medical Records, Governmental Compliance and Patient Access.
Open exchange of ideas
Said Stephenson: "Health coverage is now accessible and affordable for millions of Americans thanks to the Affordable Care Act. But the overwhelming successes of the ACA and other supportive legislation have created huge burdens on the administrative and financial protocols for most health care providers. We have created a popular forum for healthcare executives to discuss the latest healthcare benefits and protections that Americans are now entitled to by law."
Hospital Presumptive Eligibility
For years, states have had the option to use presumptive eligibility to connect pregnant women and children to Medi-Cal. Hospitals now have a unique new opportunity to connect patients to Medi-Cal, as long as they meet the state's income guidelines for Hospital Presumptive Eligibility.
Hospitals in California can elect to make these determinations—regardless of whether the state expands Medi-Cal eligibility or exercises the existing ability to allow presumptive eligibility for other populations or settings. Hospitals must agree to abide by state policies and procedures. The choice to make HPE determinations rests with each individual hospital, not with the state.
About RISARC
RISARC is a leading national high-technology and revenue recovery consulting firm to the health care industry. RISARC, founded in 1990, has recovered over $1 billion for its clients. The company offers the RMSe-bubble™ for secure electronic document exchange and the signature RISARC 360° single-source solution that combines health care revenue cycle expertise with innovative cloud-based, cost-saving technology to help clients optimize existing resources, meet business objectives and reach financial goals. RISARC is a pioneer in health care technology solutions and is a certified Health Information Handler for the Centers for Medicare and Medicaid Services, esMD project. The RMSe-bubble provides the industry's best secure, HIPAA-compliant environment for electronic record and document exchange and has been endorsed and accepted by providers, commercial insurance carriers and government agencies across the United States.
Please visit us at http://www.risarc.com for additional information.