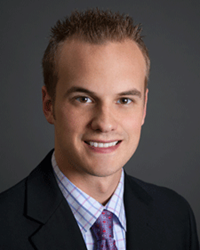 It's an honor to have participated in this program to give me the resources to further expand my professional growth.
Memphis, TN (PRWEB) June 24, 2014
Data Facts Inc. - a nationwide provider of mortgage lending and background screening solutions - congratulates Blake Higgins, Marketing Strategist at Data Facts, Inc on completing the Embark Program. This program is designed for the next generation of young professionals at the New Memphis Institute.
Higgins, committed to continuing education and strengthening his professional growth, participated in a 3 month experience designed for the next generation of professionals to develop leadership skills, and network capabilities with other leaders in the Memphis area. Building on personal growth and awareness, participants gain new insight into personal, professional and civic endeavors. This engaging program is focused on excelling in new ways; reflecting on personal strengths, utilizing networking connections, and focusing on a commitment to excellence within the community.
"It's an honor to have participated in this program to give me the resources to further expand my professional growth," says Blake Higgins, Marketing Strategist for Data Facts, Inc.
The Embark Program combines proven-in-action techniques with peer interactions designed to understand and utilize individual strengths. Insights obtained from collaboration help these future leaders develop clear action plans for successes within their organizations and communities.
About The New Memphis Institute
The New Memphis Institute trains leaders with a mission - to develop their personal potential so Memphis reaches its full potential. All that is done contributes to a mission with a purpose: leadership that ripples from New Memphis' programs and improves all facets of Memphis – neighborhoods, schools, government, economic development, and civic life. Some of the most important impacts are those made through the Community Action Projects which help local nonprofits deliver on their missions.
About The Embark Program
The Embark Program is a three-month, cohort-based leadership experience designed to equip promising 20-somethings with the training to set a course for their career and the opportunity to network with others ready to make a difference in the community. During the program, participants deepen their awareness and understanding of their strengths and weaknesses so they can better excel in personal and professional endeavors.
About Data Facts, Inc.
Since 1989, Data Facts has provided information you trust and rely on to make sound lending, hiring, and other business decisions. Data Facts' core divisions include, financial lending solutions for mortgage companies and background screening for employment, volunteers and students. We have a reputation for providing premier lending solutions, which enables our customers to close more loans faster and easier than ever.
Data Facts is one of only 2% of background screening companies that have achieved the gold standard of accreditation by the NAPBS. We provide crucial information for a broad variety of business needs. Our top of the line technology delivers information quickly, accurately and securely.
Data Facts has offices located throughout the United States and serves a wide variety of customers within the United States and Internationally. Data Facts is a 100% woman owned, diversified supplier.