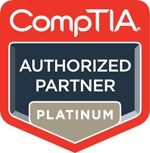 New York, NY (PRWEB) June 25, 2014
NetCom Learning is a CompTIA premier platinum partner providing authorized training in a variety of CompTIA certifications. CompTIA certified professionals who received their certifications such as A+, Network+, Security+, and CASP in 2011 will need to fulfill their Continuing Education Credits requirements soon to keep their certifications current. Also of note, CompTIA has recently changed its policy for Continuing Education Credits by eliminating the cap for maximum CEUs allowed. Most CompTIA certifications expire after three years. IT professionals with CompTIA certifications can keep their certification current by taking appropriate CEU credits, by earning a higher level certification, participating in industry events, or retaking the certification exam.
NetCom Learning offers a variety of information technology courses that could quality for specific continuing education credits for CompTIA certifications. The company is currently offering IT students a CompTIA training opportunity to take certain CompTIA certification preparation courses at fifty percent off regular price for a limited time period through June 30, 2014. Currently, CompTIA courses available for the fifty percent discount include A+ certification, Network+ certification, Security+ certification, and Linux+ certification. There is also a $700 discount being offered on the CompTIA CTT+ certification course. Students may elect to take the training courses live online (LOT) or in traditional classroom settings. The discount offers only apply to new registrations and open enrollment dates, and cannot be combined with other promotions. The discount offer ends June 30, 2014 and full payment is due upon registration. Other restrictions may apply.
"IT professionals who need to keep their certifications current either by earning a higher certification or through taking continuing education credits have an opportunity to do so at a reduced fee either through our current CompTIA half price sale or through our other individual and corporate savings plans," said Sarder.
CompTIA or the Computing Technology Industry Association is a vendor neutral, non-profit professional trade association that provides and administers vendor neutral professional certifications for IT professionals. The organizations most sought after certifications include A+, Network+, and Security+ which are accredited by the American National Standards Institute (ANSI).
Register today for CompTIA course discounts at http://mkt.netcomlearning.com/CompTIA-Promotion.html
Benefits of Taking Technical Training with NetCom Learning
NetCom Learning is the most trusted name in both business and IT training, and offers top notch instructors, with an average of 16 years of experience and vendor-approved coursework, offering certification preparation for a variety of vendor certifications. NetCom Learning instructors routinely achieve high ratings from their students and possess an average of 20.5 years of experience and a cumulative average of more than 10,500 years' experience in the field of their expertise. Instructors carry an average instructor evaluation of 8.6 out of 9, one of the highest instructor evaluations in the industry. The high quality of training has resulted in over 2,150 testimonials and a 96% customer satisfaction rate with those customers indicating they would recommend NetCom Learning to others.
About NetCom Learning:
NetCom Learning is an innovative leader in IT, business, and executive training to companies, individuals, and government agencies. Since its inception in 1998, NetCom Learning has trained over 71 percent of the Fortune 100, serviced over 50,000 business customers, and advanced the skills of more than 81,000 professionals through hands-on, expert-led training, with the organization maintaining an average instructor evaluation score of 8.6 out of 9. NetCom Learning was recognized by Microsoft Corporation as its Worldwide Training Partner of the Year, and named thrice to Inc. Magazine's list of fastest growing private companies in America. The organization was also recently named to the 2012 Top 20 IT Training Companies by TrainingIndustry.com, and was named "Company of the Year" by the American Business Awards.
Like us on Facebook! https://www.facebook.com/netcomlearning.
Follow us on LinkedIn: http://www.linkedin.com/company/netcom-learning
The purpose of NetCom Learning is to promote the values of lifelong learning.