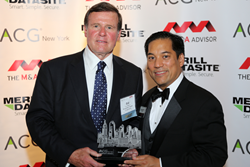 "This was a challenging transaction that truly demonstrated the capabilities of Allegiance Capital to close a complex transaction and meet both the buyer's and seller's expectations." John Sloan - Allegiance Capital
Dallas, TX (PRWEB) June 24, 2014
Allegiance Capital executed a complex M&A sales transaction that took Energy Deal of the Year honors in the 4th annual New York Champions M&A competition. The competition is directed by the ACG New York Chapter and recognizes outstanding dealmakers and transactions in the middle-market mergers and acquisitions industry. Allegiance Capital is Dallas-based investment bank that specializes in financing and selling businesses in the middle market.
Allegiance Capital directed the sale of Otis Eastern Services, a leading U.S. pipeline contractor, headquartered in Western New York, to Tulsa-based, Argonaut Private Equity, the private equity division of George Kaiser's family office. Financial terms of the deal were not disclosed.
"We are extremely proud and honored to receive the Energy Deal of the Year award for this transaction," stated David Mahmood, Chairman and Founder of Allegiance Capital. "This was a very complicated deal with numerous challenges along the way, but our bankers did a great job of overcoming issues, identifying the perfect buyer, and getting the deal closed."
John Sloan, Vice Chairman at Allegiance Capital led the winning deal team. "Bill van Wagner, my partner during the transaction, and I are honored to receive this award. This was a challenging transaction that truly demonstrated the capabilities of Allegiance Capital to close a complex transaction and meet both the buyer's and seller's expectations. It was a privilege to serve the owners of Otis Eastern and to work with the great team at Argonaut Private Equity."
The Allegiance Capital transaction was one of 38 winners that competed against hundreds of initial nominees. A sell-out crowd of more than 200 packed the ACG New York Champions Awards gala at the Metropolitan Club in New York for the awards dinner and ceremony.
"We celebrate outstanding individuals, firms, and transactions that have helped drive America's middle market," said Martin Okner, President of ACG New York. "In so doing, we also recognize middle-market private capital's important contribution to our national well-being. The middle market accounts for over 43 million U.S. jobs and 33% of U.S. GDP."
"Allegiance Capital was chosen from over 350 nominating companies to receive the award. It gives us great pleasure to recognize Allegiance Capital and bestow upon you our highest honor for M&A firms and professionals," said David Fergusson, President, The M&A Advisor. "Allegiance Capital represents the best of the M&A industry in 2014 and earned these honors by standing out in a group of very impressive finalists."
For a complete list of the 4th Annual ACG New York Champion's Awards winners please CLICK HERE.
Allegiance Capital Corporation
Allegiance Capital Corporation is an investment bank that specializes in financing and selling businesses in the middle market. Allegiance Capital Corporation was recently named to American City Business Journal's distinguished list of Who's Who in Energy 2013, in addition to being named third on the list of 2011 Largest Investment Banking Firms in North Texas by the Dallas Business Journal. Allegiance Capital Corporation has won multiple awards recognizing the value it delivers to clients, including 2009 Dealmaker of the Year (Dallas Business Journal), 2008 Boutique Investment Bank of the Year (M&A Advisor), and 2006 Investment Bank of the Year (Dallas Business Journal). Subscribe to the Capital Ideas blog by visiting: http://www.allcapcorp.com/blog. Follow Allegiance Capital Corporation on LinkedIn and Twitter: @ALLCAP.
ACG NEW YORK
Where Private Capital Meets New York
ACG® New York, Inc. (http://www.acgnyc.org), the founding chapter of The Association for Corporate Growth, is the leading membership organization in New York that facilitates relationship building and focused education for middle market deal-making professionals.
Each year over 8,000 professionals participate in ACG New York' s 70+ networking and educational events in New York City and Westchester and on Long Island, including healthcare, manufacturing & logistics, and retail conferences. ACG Deal-Source® and ACG Capital Connection® events put buyers together with funding sources in scheduled private meetings and bring M&A specialists together for open networking.
The organization's annual Champion's Awards recognize the year's outstanding middle market firms and deals, while its Education Cup competition honors the best graduate business school team from the New York City area for M&A counseling prowess. These and other programs have spurred ACG New York's rapid growth in recent years, with membership now exceeding 1,000. This year ACG New York is celebrating its 60th anniversary.
THE M&A ADVISOR
The M&A Advisor was founded in 1998 to offer insights and intelligence on M&A activities. Over the past sixteen years, the firm has established the premier global network of M&A, Turnaround and Finance professionals. Today, it has the privilege of presenting, recognizing the achievements of, and facilitating connections between the industry's top performers throughout the world with a comprehensive range of services. To learn more visit http://www.maadvisor.com
Media Contact:
Bruce Condit
Vice President – Public Relations
Ph. 214-217-7746
Email: bcondit(at)verizon(dot)net