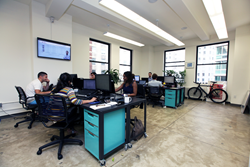 "Legal tech is quickly gaining recognition in Silicon Valley and NYC as a significant market opportunity."
New York, New York (PRWEB) June 25, 2014
The first thing one sees when stepping through the doors of The Expert Institute's new office at 75 Maiden Lane in lower Manhattan are rows of sleek computer monitors. There's a vintage racing bicycle hanging from the wall, as well as a huge flat screen display scrolling the latest sales figures and performance.
There aren't many immediate signs that this is a legal company, an industry that calls to mind libraries of serious looking books and a dependence on antiquated technology.
That's exactly what The Expert Institute is trying to change.
"Legal tech is quickly gaining recognition in Silicon Valley and NYC as a significant market opportunity." Said Michael Talve, founder and managing director of The Expert Institute. "There's a lot of great data and information for attorneys to take advantage of - but it's poorly organized and sometimes difficult to nail down without the right technology."
Since founding The Expert Institute in 2010, Talve and his company have been part of a growing field of businesses that are taking the technological lessons learned in other service sectors and applying them to the legal industry. With a recent move into a larger space and anywhere from six to ten new hires on the horizon, The Expert Institute is an example of the success some tech entrepreneurs have found in the legal space.
The focus at The Expert Institute is on expert witnesses - doctors, engineers, and other skilled professionals that act as technical advisors and commentators on cases involving specialized topics. In the past, lawyers found experts largely through word of mouth, or through a few specialized directories online.
Now, The Expert Institute has begun to leverage technology to modernize this aspect of the legal industry.
"We've focused on collecting data pertaining to expert witnesses and their respective track records for a wide variety of litigation matters." Talve said. "This data is leveraged by our technology and research teams almost instantly - as a result, we're able to match our clients with the best suited expert witnesses for their specific case needs in less time than most of our larger competitors."
The Expert Institute's commitment to technology runs deeper than data mining and organization; it is also a central pillar of its customer service experience. Experts are able to provide their credentials from their LinkedIn profiles with a single click, and the service has recently rolled out Video Preview, a new tool that allows lawyers to see prospective experts explain why they're qualified for a given case before they're selected or engaged.
The Expert Institute has doubled in size each year since its inception, and Talve is confident that technology is the future of the legal industry.
"Many folks have said lawyers would be slow to adopt new technologies; however, it's been my experience that most attorneys are very open to technology. When presented with an opportunity to increase their likelihood of success, validated with meaningful data, they have no qualms about working with a legal technology firm."
About The Expert Institute
Founded in 2010, The Expert Institute is a technology-driven platform for connecting qualified experts in every field with lawyers, investment firms, and journalists looking for technical expertise and guidance. The Expert Institute combines a vast database of pre-screened experts with a talented case management team capable of custom recruiting experts to fit the specific needs of our clients. Our service also employs a unique, one-time referral fee billing structure to increase transparency for both our clients and the experts we refer to them. By leveraging new technologies and techniques within the legal industry, The Expert Institute has become the fastest-growing expert referral service in the country.