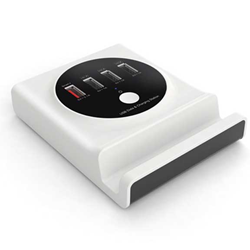 We are pleased to offer these specialty custom designed USB charging and data transfer hubs with cradle for our customers. OTG (On the Go) allows connectivity for devices such as flash drives, keyboards and more which support the OTG function.
Hayward, CA (PRWEB) June 26, 2014
SF Cable, supplier of the highest quality cables, components, and accessories (including custom products) at the deepest discounts on the internet distributed with total customer satisfaction, delivers the latest in USB Hubs and Charging Stations. Complete with your choice of charging station only or hub and charging station combination, SF Cable keeps customers charged and connected.
Ideally suited for all types of charging including mobile phones, iPads and tablets, cameras and more, these SF Cable USB hubs and charging stations are the perfect addition for home, office or on the go. Some units are equipped with multiple USB ports for charging only, while others offer USB ports for charging and also act as a hub for data transfer. One unit features USB charging station, hub, and AC outlets, another offers superfast USB charging, and multiple units feature a convenient cradle to hold your phone or tablet while charging.
SF Cable understands the need of their clients to stay powered and connected in the digital age and the USB charging stations and hubs promise to do just that. Perfect for families, small businesses and travel, these USB chargers and hubs are compact in size and ready to be used successfully wherever one finds they need to recharge or transfer important data.
Visit http://www.sfcable.com/search.html?q=usb+charging+station and find the solutions you need for your home or business exclusively at SF Cable.
About SF Cable
SF Cable opened their doors in 2002 with the promise of providing the highest quality cables, components, and accessories (including custom products) at the lowest available prices on the internet always delivered to completely satisfied customers.
Today SF Cable continues that tradition promising unparalleled service in the marketplace because they maintain a huge inventory of over 8,000 SKUs of cables, components, and accessories always awaiting shipment to our customers with same day service (in most cases). Custom orders are shipped within two to three days. All SF cable products are the finest quality at prices up to 90% off retail due to our low overhead and direct imports.
Contact Details:
SF Cable, Inc.
28300 Industrial Boulevard Suite F
Hayward, CA 94545-4439
Toll-Free: 888-275-8755
Local: 510-264-9988
Fax: 510-264-9989
Email: customerservice(at)sfcable(dot)com